2022-07-15
HKGBW 2022 "10 out of 10 for Green Building KOL Video Competition" - Call for Submissions!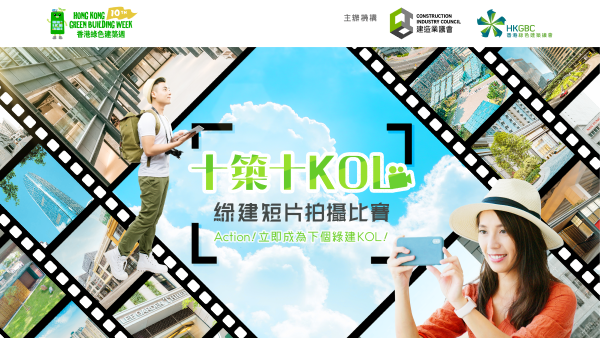 The Hong Kong Green Building Week 2022 (HKGBW 2022), co-organised by the Construction Industry Council (CIC) and the Hong Kong Green Building Council (HKGBC) celebrates its 10th anniversary this year. The campaign, themed "10 out of 10 for Green Building. Carbon Neutrality by 2050!", will be officially launched on 24 September. HKGBW 2022 will highlight 10 crucial green building elements, including Smart Energy Design and Renewable Energy, etc., and offers a diverse line-up of activities in which the public can participate and celebrate the 10-year milestone of the HKGBW.
As an opening programme of the HKGBW 2022, the "10 out of 10 for Green Building KOL Video Competition" will be launched from 14 July. It aims to encourage the public to learn the importance and benefits of green buildings, by acting as green building KOLs to capture the beauty of green buildings with videos up to three minutes in length. A free video production workshop will be held on 23 July. Mr Penny CHENG, an experienced advertising director and Mr Jonathan CHEUNG (Jon Jon), a popular YouTuber will share their experiences in filmmaking and key elements to attract the audience.
For free registration:

https://bit.ly/3ILQqf9
HKGBW 2022 will have more upcoming amazing events, please stay tuned with us! Check out
HERE
for further details.