02 Aug 2017
Mandatory CPD Event - Intensive Training Series on BEAM Plus Existing Buildings - Management Aspects

This event is co-organised by
Business Environment Council Limited (BEC) and the Hong Kong Green Building Council Limited (HKGBC).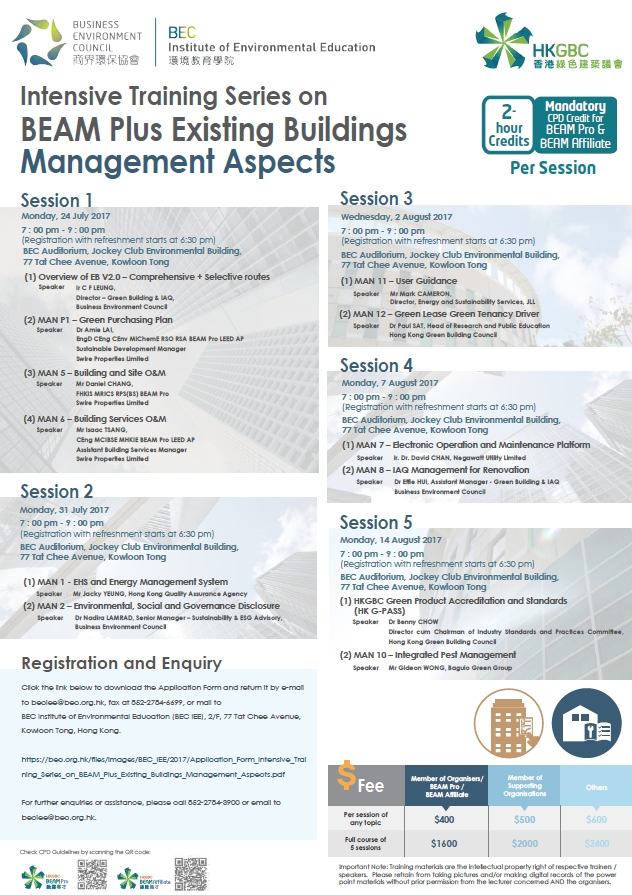 Session 1/5:
1st Topic: Overview of EB V2.0 – Comprehensive + Selective routes
BEAM Plus Existing Buildings (EB) V2.0 measures the actual performance of a building and evaluates its facility management practices. With a key concept of 'Better than Yesterday', the assessment covers all aspects of management, operation and maintenance, and may be initiated at any time during a building's operational life. BEAM Plus EB V2.0 comprises two schemes – Comprehensive Scheme and Selective Scheme. These two alternative approaches of assessment aim at helping the transformation of aged building stock of Hong Kong to greener buildings and creating a healthier living and working environment. This part of seminar will introduce the overview of EB V2.0.
Speaker: Ir C F LEUNG, Director of Green Building & IAQ, Business Environment Council
Currently the Director of Green Building & IAQ team of the Business Environment Council, Ir C F LEUNG specialises in green building assessments, carbon audits, energy efficiency programmes and indoor environmental quality consultancy, etc. A practising environmental engineer, he has been involving in a large number of building-related projects, ranging from large private and public housing estates, commercial offices, shopping centres, hospitals to university buildings. Ir Leung helps the development of BEAM Plus Manuals and delivers training for BEAM Professionals. He is also a Registered Professional Engineer, a Chartered Engineer, a Chartered Environmentalist, a Chartered Water & Environmental Manager and a Certified Carbon Auditor Professional.
2nd Topic: MAN P1 – Green Purchasing Plan
Businesses can demonstrate to society their commitment to cleaner, greener and more resource efficient products and services as well as to responsible supply chain management, through a sustainable approach to buying goods, services and materials. Green procurement considerations are an integral part of the sustainable procurement process. For building operation and maintenance, BEAM Plus encourages purchasing practices that promote the supply and use of environmentally friendly products, materials and equipment. Amie will share the journey and lessons learnt of Swire Properties' green procurement and supply chain management initiatives, essential elements, as well as the international trend of green procurement.

Speaker: Dr Amie LAI, EngD CEng CEnv MIChemE RSO RSA BEAM Pro LEED AP
Sustainable Development Manager, Swire Properties Limited
Dr Amie LAI is responsible for the formulation and implementation of sustainability strategies and action plans for Swire Properties. In this role she represents Swire Properties in several internal and external sustainability networks, committees and working groups. Amie has extensive professional experiences in the field of environmental management, sustainability reporting, stakeholder engagement and green building in the technology and real estate sectors. She is a Chartered Environmentalist and Engineer, BEAM Professional, as well as LEED Accredited Professional.
3rd Topic: MAN 5 – Building and Site O&M
Proper building maintenance is very important in order to enhance safety and reduce environmental impacts. BEAM Plus encourages planned inspection, maintenance and repairing of building fabric, structure and external areas. Daniel will share the best practices of building maintenance that have been implemented to upkeep the portfolios in good shape. He will discuss how these practices align among different operating units by setting clear guidelines on inspection requirements, i.e. specifying scope and frequency of inspection, as well as how to maintain the building standard by conducting ad-hoc Back of House condition survey.
Speaker: Mr Daniel CHANG, FHKIS MRICS RPS(BS) BEAM Pro,
Swire Properties Limited
Daniel is currently working for Swire Properties as Senior Technical Services Manager. His focus is on setting standards and guidelines for maintenance and procurement practices for portfolio management. He is a Building Surveyor by profession and fellow of The Hong Kong Institute of Surveyors (HKIS), member of Royal Institution of Chartered Surveyors, Registered Professional Surveyor and BEAM Professional. To cultivate the growth of young surveyors, he has acted as counsellors for probationers and being assessor for professional examination. Apart from holding the positon of Chairman, Building Surveying Division of the HKIS, he has also served public services such as Surveyors Registration Board and Appeal Tribunal (Buildings).
4th Topic: MAN 6 – Building Services O&M
Isaac will share preventive maintenance for building services systems, operation & maintenance effectiveness review and building energy management for the purpose of maintaining higher operation efficiencies.
Speaker: Mr Isaac TSANG, CEng MCIBSE MHKIE BEAM Pro LEED AP,
Assistant Building Services Manager, Swire Properties Limited
Isaac has over 12 years' experience working as professional engineer in properties development firm and engineering consultancy firm. He has participated for a variety of projects including commercial, institutional and residential projects in Hong Kong, China Mainland and various areas in East Asia. His experiences cover the building services system design, building maintenance, energy management, testing & commissioning, sustainability consultation, building performance assessment as well as project coordination for both the public and the private sectors. With the qualifications of Chartered Engineer, LEED Accredited Professional and BEAM Professional, Isaac is experienced in integrating sustainable development features into building services designs and operations.
---
Session 2/5
1st Topic: MAN 1 - EHS and Energy Management System
The talk would be an overview of the recent ISO management systems that can benefit the building management performance and encourage sustainability. The recent development of ISO management systems adopts the high level structure and introduces the risk-based thinking approach. This could help building management companies to consider the intended results and affecting issues when developing and implementing the management systems. Performance beyond certification should become another incentive of implementing the management systems.

Speaker: Mr Jacky YEUNG, Hong Kong Quality Assurance Agency
Mr YEUNG has over 20 years' experience in implementing, consulting and auditing of quality management system. He is responsible for overseeing Marketing and Technology function and Accreditation Management. He has acquired auditor qualifications in several sectors, ISO 9001, TL9000, ISO 20000-1, PAS55, ISO 50001, ISO 55001, ISO 10002, ISO 27001. And with technical knowledge, he has provided assessment, auditing, certification, in-house training and public training services to many kinds of clients. He is one of the qualified Master Trainer to provide sanctioned TL9000 auditor training in Greater China. For Marketing and Technology function, this involves the new product research and development to support the growth of the Agency by preparing the technical documentation, training auditors and arranging pilot runs for ensuring the successful product launch. For Accreditation Management, the purpose is to introduce new accreditation for schemes and sectors, and also maintain the validity of accreditation status.
2nd Topic: MAN 2 – Environmental, Social and Governance Disclosure
Sustainability / ESG reporting is recognised as an important tool for identifying and managing sustainability risks and opportunities as well as developing and communicating sustainability strategies. It is a useful way to understand and gauge the environmental and social impacts of business activities while reviewing and monitoring the effectiveness of the ESG governance process. Companies may refer to a number of frameworks in the process of developing a report, however, the most commonly referenced framework is the GRI Sustainability Reporting Guidelines which details reporting principles, standard disclosures and the implementation process. In this session, we will move through the reasons for reporting, the different steps in the process, as well as an introduction of the GRI framework and its principles.
Speaker: Dr Nadira LAMRAD, Senior Manager – Sustainability & ESG Advisory, Business Environment Council
Dr LAMRAD manages the sustainability and ESG advisory team at the Business Environment Council. She has been the project director helping clients develop their sustainability reports, policies and strategies as well as respond to sustainability questionnaires such as the CDP Climate Change Information Request. Previous clients include MTR Corporation, the Hong Kong and Shanghai Hotels, Hongkong Land, and Henderson Land Development.
Prior to joining BEC, Dr LAMRAD completed her PhD during which she specialized in global governance, private regulation, corporate responsibility and sustainability. In her academic capacity, Dr LAMRAD developed and published innovative models for understanding how corporate responsibility is operationalized. Her research agenda debates both the theoretical and practical role of business in the development and implementation of corporate responsibility and sustainability policies.
As a result of eight years of related research and analysis, Dr LAMRAD has in depth specialist knowledge in corporate responsibility and sustainability that provides her with the essential expertise to identify and assess ESG risks, and make informed predictions regarding future developments.
---
Session 3/5
1st Topic: MAN 11 – User Guidance
Global attention is firmly focused upon the reduction of carbon emissions following the Paris Agreement of 2016 and subsequent nationally determined contributions. Given that buildings contribute a large proportion of carbon emissions, it is imperative that we focus on improving the performance of real estate. Steps have been made locally in Hong Kong to curb emissions associated with buildings, particularly in design & construction. However, with the majority of anticipated building stock already constructed, it falls upon existing buildings to drive real change. Greater collaboration and understanding between landlords and tenants through vehicles such as green leases has the potential to provide better buildings, consuming less resources and providing healthy and enjoyable spaces for people to live and work. This talk will draw upon global case studies to explore ways of breaking the common barriers to the adoption of green lease clauses.

Speaker: Mr Mark CAMERON, Director, Energy and Sustainability Services, JLL

Mark CAMERON is Sustainability Director of JLL's Energy and Sustainability Services business across Asia Pacific. Mark has over 14 years' experience in the design, construction and management of real estate, having previously worked with Buro Happold and Arup. His responsibilities include developing sustainability programs around leasing, energy efficiency and sustainable building solutions for landlords, developers and tenants. Mark's current clients include Morgan Stanley, Ericsson, Prudential and LaSalle asset management.
2nd Topic: MAN 12 – Green Lease Green Tenancy Driver
(*This topic will be conducted in Cantonese)
To encourage existing buildings to go green, occupants' behaviours play an important role. The HKGBC published a guidebook on Green Tenancy Driver to promote landlord-tenant collaboration to create a sustainable working environment. Green tenancy can bring down operation costs, benefit the environment and promote a positive corporate image. This seminar will give an overview on how to build up an alliance with tenants and landlords to create social value for the community and their existing built environment, and it will also touch on how the exercise can help to engage more credits in BEAM Plus EB Version 2.0.
Speaker: Dr Paul SAT, Head of Research and Public Education, Hong Kong Green Building Council
Dr Paul SAT graduated with a BEng (Hons) degree in Building Services Engineering at the Hong Kong Polytechnic University in 1994 and started his career as an assistant engineer with Parsons Brinckerhoff (Asia) Ltd. He joined his Alma Master Department at 1999 as a Research Associate, focused on building energy stimulation and studies and also acquired his PhD degree in 2003 through a part-time research study programme. He joined the Technical Services and Sustainability Department of Swire Properties Ltd. in 2002 and became the Building Services Manager at 2015. In 2016, he joined the Hong Kong Green Building Council as the Head of Research and Public Education. His current interest includes BMS data analysis, building energy assessment, building performance evaluation and knowledge base energy management, retro- and re-commissioning process. Dr SAT is currently an Academic Chair of the Building Services Operation and Maintenance Executive Society IBSOMES) and a BEAM Pro.
---
1st Topic: MAN 7 – Electronic Operation and Maintenance Platform
Since the deployment of BEAM Plus EB, the credit MAN 7 – Electronic Operation and Maintenance Platform is usually seen as an information storage system for building in operation. However, with the advancement in IT, an online platform would not only for the sole purpose of information management. In this presentation, demonstration will be provided to stakeholders on how the platform can provide occupant's comfort while achieving energy savings. Accompanying with the innovative BIM models, the platform can provide a bridging between different parties in the industry, allowing building sustainability to a new level.

Speaker: Ir Dr David CHAN, Negawatt Utility Limited
Ir Dr David M.H. CHAN is an engineer with expertise in energy, indoor health and comfort and facility management. He is the Founder and Director of Negawatt Utility Limited, and aimed to use his expertise to combine with Information Technology to assist the building industry to achieve higher sustainability with the growing demand for higher efficiency in building operation.
He has a degree in engineering undergraduate degree and architectural PhD degree. During his study in PhD degrees, he was working as a facility management engineer at Central Plaza, consultant in Arup and cooling tower technical sales in Ryowo. He is involved in projects from design stage to construction stages, including design, expert evaluation with CFD, procuring of raw material, manufacturing process, transportation, installation and Testing & Commissioning. One of his iconic project is the design of the cooling tower system design with plate exchanger within the still-constructing and will be the tallest building in Beijing, Z15 CBD tower (中國尊), of 中信集團.
2nd Topic: MAN 8 – IAQ Management for Renovation
During renovation, fit-out and decoration stages, airborne pollutants release to the atmosphere, which can significantly impact the indoor air quality (IAQ) of a building. These pollutants may also be spread out to other areas via the ventilation systems. High levels of pollutants can induce adverse health effects. A better management during renovation is therefore crucial for improving IAQ and minimizing airborne infection. This session will highlight the international and local practical guidance and essential knowledge in IAQ management for renovation such as material installation sequences, system protection and other best practices via cases sharing.
Speaker: Dr Effie HUI, Assistant Manager - Green Building & IAQ, Business Environment Council
Dr Effie HUI is Assistant Manager of Green Building & IAQ at Business Environment Council Limited. Dr HUI is an approved IAQ Signatory and has over 8-year experience in the areas of indoor air quality (IAQ) and built environment assessment; responsible for consultancy projects and research projects of IAQ investigation, natural ventilation effectiveness analysis, and development of IAQ sampling protocol and indoor environmental quality performance assessment. She has participated and presented in several international and local conferences. Prior to joining BEC, She worked for an established E&M engineering consultancy firm as a sustainability consultant, involved in green building certification projects, building sustainability and energy performance analysis.
---
Session 5/5
1st Topic: HKGBC Green Product Accreditation and Standards (HK G-PASS)
Hong Kong Green Building Council strives to promote the standards and developments of sustainable buildings in Hong Kong. With this concept in mind, accelerating green building development is always our top mission. Taken into consideration that the design stage and the usage of green building products are indispensably important for a building to go green, Hong Kong Green Building Council initiates "HKGBC Green Product Accreditation and Standards (HKG-PASS)" which has been launched in January 2015.
In response to the need of a standardized measure in initiating the market for green business opportunities and development of greener products, HK G-PASS is established focusing on various aspects such as raw materials, manufacturing process, embodied carbon, toxicity, etc. With the launch of this scheme, it shall enhance the transparency of green building products and benefit stakeholders and industry in various ways.

Speaker: Dr Benny CHOW, Director cum Chairman of Industry Standards and Practices Committee,
Hong Kong Green Building Council
As the Director cum Chairman of Industry Standards and Practices Committee of the Hong Kong Green Building Council, Dr. Benny CHOW is also the GB Faculty of the Hong Kong Green Building Council with credential on BEAM Pro with full specialty (NB, EB, BI, ND), the Chairman of Sustainability Committee and Energy Group Leader of ASHRAE-HKC, a LEED AP (USGBC), WELL AP (IWBI), and the National Committee Member of the China Green Building Council.
Dr Benny CHOW is the Director of Sustainability at Aedas Hong Kong and award-winning design expert. Benny brings with him more than 20 years of worldwide experience in sustainable design specializing in microclimate analysis, low-energy passive architecture, integrative building envelope design for energy optimization, CFD air ventilation assessment and indoor environmental quality study for promoting health, wellbeing and productivity in office places, which invaluably strengthened the architectural concept and designs of more than 400+ projects that he has worked on.
Benny holds number of academic titles, including the Adjunct Assistant Professor of the Faculty of Medicine at the Chinese University of Hong Kong (CUHK). He was an Honorary Associate Professor in the Department of Mechanical Engineering at University of Hong Kong, and Adjunct Associate Professor in the Institute of Space and Earth Information Science at CUHK.
2nd Topic: MAN 10 – Integrated Pest Management
Pesticides pose risks to human health and the environment when users' directions of the products are not followed. Irresponsible use of pesticides, for example unnecessary or excess usage, disposing pesticides in a bad manner, could contaminate the environment. Even alternative or organic pesticides can result in the above environmental issues if they are not used properly. Building management should adopt pest control in ways that offer a means to reduce the risk, and in some cases, the amount of pesticides needed. Integrated pest management (IPM) is an approach to pest control by utilising regular monitoring and record keeping to determine if and when treatments are needed. It employs a combination of strategies and tactics to keep pest numbers low enough to prevent unacceptable damage or annoyance. This part of seminar will introduce the principle and examples of IPM and urban pest control.

Speaker: Mr Gideon WONG, Baguio Green Group
Mr Gideon WONG is Specialist of Baguio Green Group. Gideon has over 20 years of industrial experience in pest management includes plant pathology, pesticides manufacturing and urban pest identification, prevention and control.
Event Detail

Event Name

:
Mandatory CPD Event - Intensive Training Series on BEAM Plus Existing Buildings - Management Aspects

Date

:
02 Aug 2017

Time

:
19:00 - 21:00

Fee

:

Free of Charge

(

HKGBC Members

)


Free of Charge

(

HKGBC Non-Members

)

Contact Email

:
enquiry@hkgbc.org.hk