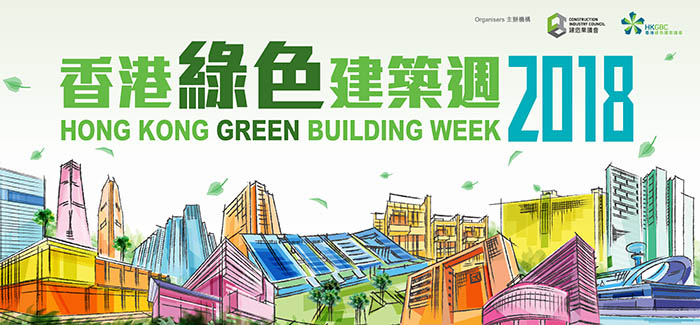 Hong Kong Green Building Week 2018
Following the success of the previous five years, the Construction Industry Council (CIC) and the Hong Kong Green Building Council are co-organising the Hong Kong Green Building Week (HKGBW) again this year, with the aim to raise public awareness of green building movement and sustainable lifestyle.
Fully supported by: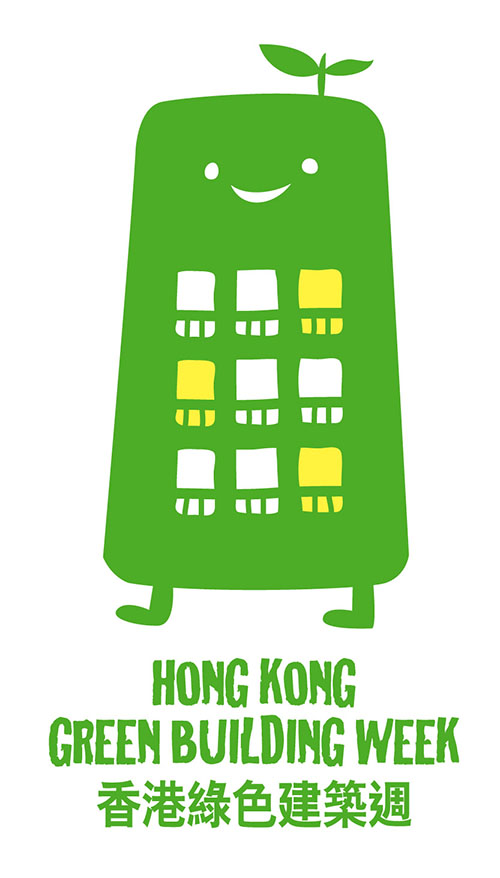 Hong Kong Green Building Week 2018 Overall Programme Highlights
Announcements in the Public Interests
API (Announcements in the Public Interests) airtime has been granted by the Information Services Department in all major TV and radio channels to promote the HKGBW.
HKGBW 2018 API will be broadcasted from the end-August for a month long. Please stay tuned for the premiere!
Shop and Wrap
To echo another HKGBC initiative - Hong Kong Green Shop Alliance, we will partner with Alliance members on advocating green shopping culture.
Wrapping cloth is not only an eco-friendly option but also coming back as a popular culture in various cities. Unlike paper and plastic bags, wrapping cloth can be reused and therefore could ease the environmental concern. 'Shop and Wrap' calls for action among shoppers by changing their attitude and behaviour via our own version of 'G-Wrapper'.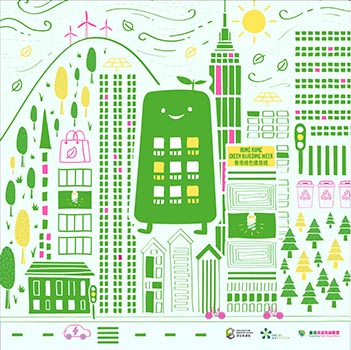 Date
Venue
13-30 September 2018
10-17 October 2018 (Extended Free Redemption Period)
AEON selected stores
Dynamic Green Exercise

Ever think of doing exercise in malls? By a specially designed floor electric system, we invite you to get into the workout groove at our Dynamic Exercise Booths! The set-up exemplifies the alternative energy idea as well as indoor health and wellbeing concept in our built environment.
| Date | Venue |
| --- | --- |
| 14-20 September 2018 (Friday - Thursday) | Area D, Level G, Festival Walk, 80 Tat Chee Avenue, Kowloon Tong, Kowloon |
| 21-24 September 2018 (Friday - Monday) | Atrium, 11-19 Great George Street, Fashion Walk, Causeway Bay, Hong Kong |
Biz-Green Dress Day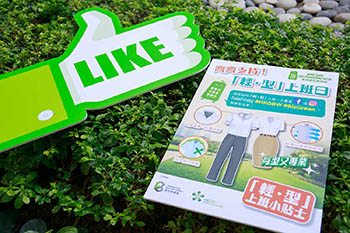 The Biz-Green Dress Day engages business communities to adopt a greener lifestyle in their workplace. Office workers are encouraged to follow the Biz-Green dress code and help saving energy through minimising air conditioning consumption in the office. Dressing light while still look smart and professional! Join the Biz-Green Dress Day 2018!
Date: 20 September 2018 (Thursday)
On the same day, you could meet Hanson & Green Building Buddy in your Biz-Green attire.
Schedule:
Millennium City (Phase II & III), Kwun Tong (08:00 - 09:30)
Chevalier Commercial Centre, Kowloon Bay (10:30 - 11:30)
Devon House, Taikoo Place, Quarry Bay (12:30 - 14:00)
The Center, Central (17:30 - 19:00)
Green Bazaar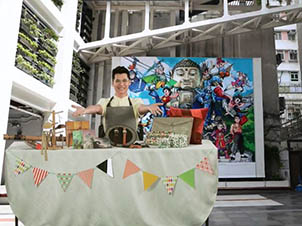 Our one-of-a-kind upcycling bazaar serves as a shared space for 16 handcrafters to showcase their creativity on upcycling whereas workshops will be organised to enlighten participants with construction-related DIY moments (click here to register). During the two fun-filled days participants will also enjoy discarded wood pallets creations from HKBU, cement paintings from Moldflip and other visual art projects. Free-flow of coffee and tea will be served by the WWF solar cafe too. Please click here for more details.
Date
Time
Venue
29-30 September 2018 (Saturday - Sunday)
1:00pm - 8:00pm (29 September)
11:00am - 6:30pm (30 September)
7 Mallory Street, Wan Chai, Hong Kong
Ignite HKGBW 2018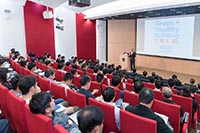 We are hosting the HKGBW version of Ignite, a fast and fun way of presentations. Speakers must build their presentations with 20 slides, each of which is shown for 15 seconds, giving each speaker 5 minutes of fame. Green building professionals, green lifestyle advocates and key opinion leaders will be invited to share insights on leading up to a sustainable development and living.
| Date | Time | Venue |
| --- | --- | --- |
| 3 October 2018 (Wednesday) | 3:00pm | Multi-purpose Hall (Hall 1 & 2), Construction Industry Council - Zero Carbon Building |
Videos of presentation could be reviewed
here
.

World Green Building Week
The HKGBW also echoes the World Green Building Week, a worldwide flagship campaign organised by the World Green Building Council (WorldGBC).
World Green Building Week is an annual event that aims to motivate and empower us all to deliver greener buildings. This year, the theme is 'green homes'. The goal is to generate widespread awareness of the benefits of a greener home and highlight practical ways to make a home greener. The World Green Building Week 2018 will take place from 24 - 30 September.
For more details of World Green Building Week 2018, please click here.

Supporting Organisations of the Hong Kong Green Building Week 2018