2022-06-17
[News from HKGBC Patron Member] Sino Group's New Joint-Venture Project: LANDMARK SOUTH Sets New Trends for Wellness Workplaces in Island South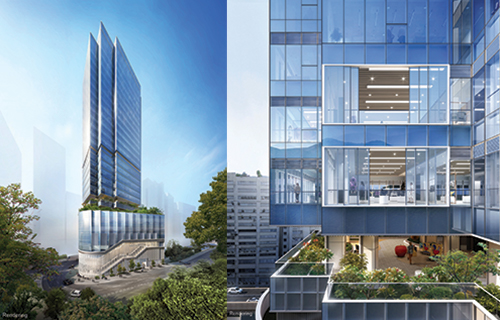 LANDMARK SOUTH, jointly developed by Sino Group and Empire Group in Island South, was designed with sustainability and tenants' well-being in mind and has targeted to obtain the Gold rating under BEAM Plus. The project provides around 250,000 sq ft of prime commercial space across 30 storeys and comprises Grade A office, retail, dining, art spaces; spaces have been reserved as permanent office of the Hong Kong Arts Development Council.
Nature is central to the architectural design of LANDMARK SOUTH to deliver an environment that promotes healthy living and sustainability. With the 9,200-square-foot sky garden situated on the eighth floor, indoor greenery covering 4,100 sq ft as well as vibrant motifs, nature can be felt everywhere. Tenants can enjoy farming on the 750-square-foot urban farm to achieve work-life balance. In support of green transport and the reduction of carbon emissions, 113 parking spaces in the property are fitted with EV charging facilities.
To ensure indoor air quality and a hygienic environment in LANDMARK SOUTH, the indoor space will be double cleansed using MERV 14 air purifier and UV sanitiser. In addition, the property is fitted with touchless, automatic door system in common areas including entrance lobby, lift lobby and washrooms; UV ioniser steriliser inside lift cars; and antibacterial sanitary fitments in all washrooms to create a cosy and safe workspace for users.
www.landmarksouth.com.hk