2021-11-22
Green Building Award 2021 Award Presentation Dinner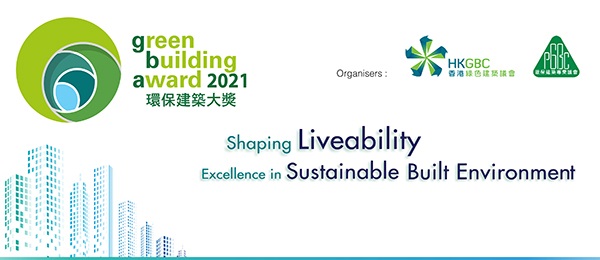 Green Building Award 2021 Award Presentation Dinner
Celebrating the Success with all the Award Winners!
Call for Table Sponsorship
With the keen support from the industry, Green Building Award 2021 (GBA 2021) has received a record-breaking number of 100 nominations of which 80 Finalists have been shortlisted for Final Judging. The Organisers, HKGBC and PGBC would like to convey our heartfelt thanks for all your support and participation.

Winners of all Awards and Special Citation on United Nations Sustainable Development Goals will be revealed at the Award Presentation Dinner to be held on 13 January 2022 (Thu).

To celebrate the outstanding performance of all Winners and the significant contributions of all industry pioneers in the sustainable built environment, we cordially invite your presence at the Award Presentation Dinner. We are most honoured to have Mr Michael WONG Wai-lun, Secretary for Development as the Guest of Honour and Honorary Advisor of the Dinner to recognise winning teams' efforts. Please find the details as follows:
Green Building Award 2021 – Award Presentation Dinner
Date: 13 January 2022 (Thu)
Time: 6:30pm – 7:00pm Reception
7:00pm – 10:30pm Dinner and Award Presentation Ceremony
Venue: JW Marriott Ballroom, Level 3, JW Marriott Hotel Hong Kong
(Pacific Place, 88 Queensway, Hong Kong)
Ballroom A

Ballroom B

Access to Stage during Award Presentation

Yes

No

Table Booking Fee



Full Table for 12 persons

Half Table for 6 persons

Individual Seat for HKGBC/PGBC Member

Individual Seat for Non-HKGBC/PGBC Member


HK$30,000

HK$16,000

HK$2,800

HK$3,000



HK$25,000

HK$14,000

HK$2,400

HK$2,600

Health & Safety Measures

Before entering the ballroom:


1. All participants should scan the "LeaveHomeSafe" venue QR code.

2. All participants should have received the 1st dose of COVID-19 vaccine and present COVID-19 vaccination record (either electronic or paper). Participants with special health conditions should submit the negative test result obtained within 1 week from the event day (7 – 13 Jan 2022 inclusive).

3. No food and beverage will be served at the Foyer Area.
The first round of Call for Table Sponsorship will be opened for 3 weeks, until 10 December 2021 (Fri).
Due to limited capacity, confirmation of booking will be on a first-come, first-serve basis with priority given to Finalists' Applicants and committed GBA 2021 Sponsors. Table/seat will be allocated in a fair and appropriate manner.
Don't miss the chance to celebrate the special occasion and share the joy with leading industry players!
Please click
HERE
for the Table Booking Form and more details of the dinner.