20 Jun 2018
CPD Event - Designing Space for Better Mental Health
This event is organised by Hong Kong Green Building Council Limited (HKGBC).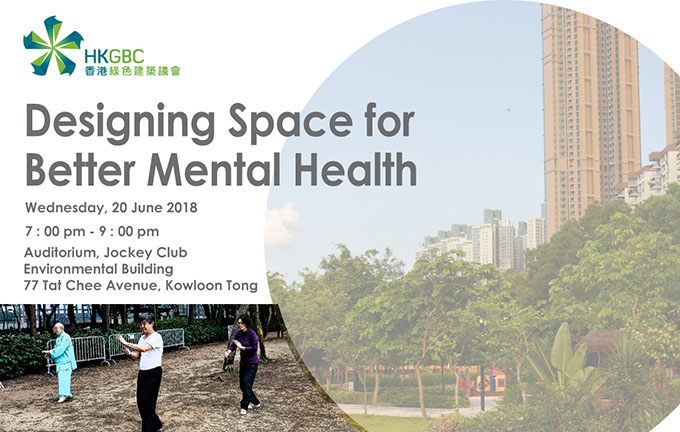 Session 1: Subjective wellbeing, suicide and socioeconomic factors: an ecological analysis in Hong Kong
There has recently been an increased interest in mental health indicators for the monitoring of population wellbeing, which is among the targets of Sustainable Development Goals adopted by the United Nations. Levels of subjective wellbeing and suicide rates have been proposed as indicators of population mental health, but prior research is limited. We examine individual happiness and life satisfaction were sourced from a population-based survey in Hong Kong (2011). Suicide data were extracted from Coroner's Court files (2005–2013). Area characteristic variables included local poverty rate and four factors derived from a factor analysis of 21 variables extracted from the 2011 census. The associations between mean happiness and life satisfaction scores and suicide rates were assessed using Pearson correlation coefficient at two area levels: 18 districts and 30 quantiles of large street blocks (LSBs; n = 1620). LSB is a small area unit with a higher level of within-unit homogeneity compared with districts. Partial correlations were used to control for area characteristics. It shows that happiness and life satisfaction demonstrated weak inverse associations with suicide rate at the district level (r=−0.32 and −0.36, respectively) but very strong associations at the LSB quantile level (r =−0.83 and −0.84, respectively). There were generally very weak or weak negative correlations across sex/age groups at the district level but generally moderate to strong correlations at the LSB quantile level. The associations were markedly attenuated or became null after controlling for area characteristics. Subjective wellbeing is strongly associated with suicide at a small area level; socioeconomic factors can largely explain this association. Socioeconomic factors could play an important role in determining the wellbeing of the population, and this could inform policies aimed at enhancing population wellbeing.
Speaker: Prof. Paul YIP, Hong Kong Jockey Club Centre for Suicide Research and Prevention, The University of Hong Kong, Hong Kong SAR
Prof. Yip is the director of the Centre for Suicide Research and Prevention (CSRP) and also a chair professor at the Department of Social Work and Social Administration at HKU. His research interests are in suicide prevention and demographic transition and its implication. He won the Stengel Award by International Association for Suicide Prevention in 2011, outstanding researcher award, best supervisor award and knowledge exchange award of the University of Hong Kong in 2012, 2013 and 2017 respectively. He was the vice-president of the International Association for Suicide Prevention (IASP) in 2009-2014.
Session 2: Spatial Mapping of Geriatric Depression Risks in High Density Cities
The physical environment is widely found to be associated with people's health and well-being. However, the inclusion of corresponding factors of the physical environment in epidemiological studies is rather limited. As such, the role of the physical environment in preventing various diseases and health problems cannot be adequately understood. It also limits the potential of incorporating the physical environment into preventive healthcare and relevant planning. As stated in the WHO framework of global age-friendly cities, outdoor spaces and buildings are important aspects for the mobility, independence and quality of life of elderly people. In this talk, the spatial mapping of geriatric depression risk in Hong Kong will be presented, based on an ecological study of the effect of built environmental factors on geriatric depression. In high-density cities, elderly people's perception of outdoor spaces is considerably different from that in the low- or medium-density cities. In order to better design outdoor spaces for promoting active ageing, it is essential to obtain necessary information for elderly people's perception, preference and usage pattern of outdoor spaces, as well as the opinions of planners, designers and architects. Initial findings of an ongoing study of elderly perception of outdoor spaces will also be discussed.
Speaker: Dr Kevin LAU Ka-Lun, Assistant Professor, Institute of Future Cities and CUHK Jockey Club Institute of Ageing, The Chinese University of Hong Kong
Dr Kevin Lau Ka-Lun is a research assistant professor at Institute of Future Cities and CUHK Jockey Club Institute of Ageing, CUHK. He is an urban climatologist with research interest mainly on the effect of the built environment on the health and well-being of urban inhabitants. He conducted studies of the relationship between factors of urban morphology and neighbourhood characteristics and physical and mental health outcomes. He is also interested in translating the scientific findings into practical knowledge that can be used by professionals and policy-makers.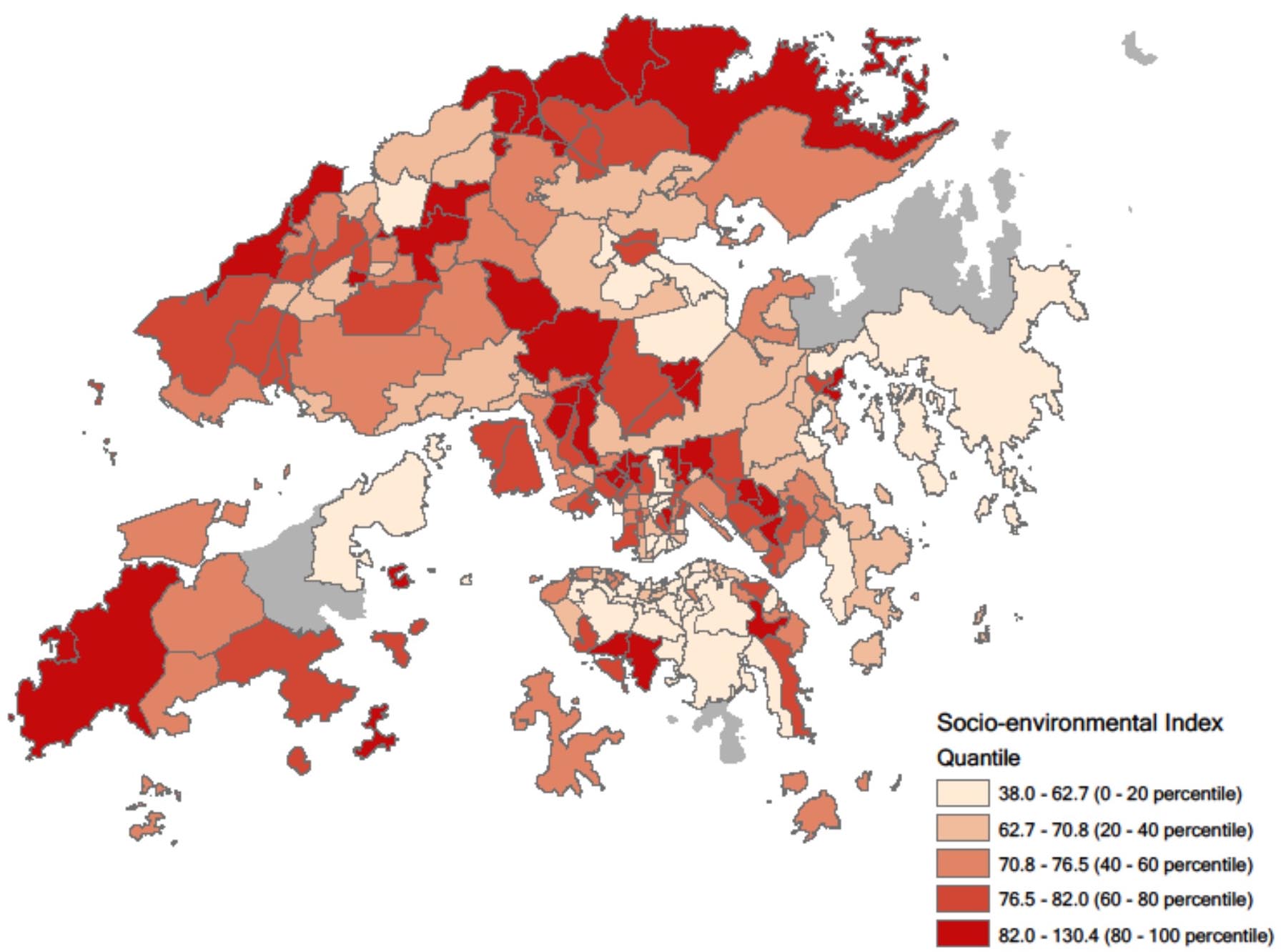 Session 3: Dementia Friendly Environment - Support People with Dementia Living Well in the Community
Will the temperature affect the responses of people with dementia? How the use of colour and environmental friendly design facilitates the living of people with dementia as well as their family caregivers? What is the meaning of "Dementia Friendly Community"? Dementia care is one of the international focuses of mental health concern among the senior citizens. Indeed, understanding more about dementia care is not the only responsibility within the health and social care sectors but also everyone in the society. Besides, getting lost is transcendentally vital to be addressed in the dementia care and it might be related to the impact of the surrounding environment. Jockey Club Centre for Positive Ageing organizes the "Jockey Club 'Dementia Friendly Communities' Campaign"(DFC Campaign) between October 2016 and September 2018 which aims to strengthen the supporting network in the communities so that people with dementia can live well in the community. In this sharing, the principles of design in dementia care will be shared and it is the time for us to prepare well regarding the good quality of care towards people with dementia in Hong Kong.
Speaker: Mr Kenny CHUI Chi-Man, Senior Training Consultant & Project Manager, Jockey Club Centre for Positive Ageing
Kenny is the senior training consultant of Jockey Club Centre for Positive Ageing (JCCPA) which is managed by Faculty of Medicine, The Chinese University of Hong Kong. He focused on the Jockey Club Best Practice in Dementia Care Programme and facilitated to promote Dementia Friendly Community in Hong Kong. One of his three master degrees was specific in dementia study in the University of Stirling, UK and he was the Winner of Social Impact Award from British Council in 2016. He committed as the specialist of HKCAVVQ and explored the voice of people with dementia in his PhD thesis. He got the Teacher of the Year Award in the Chinese University of Hong Kong before and he provided dementia care consultations to different health care professional sectors.
Session 4: Approach to Creating Healthy City: Positive Impacts of Urban Nature on Mental Health
Severe destruction of limited nature in urban areas caused by the extensive urbanization, and existence of fierce working rivalry, high cost of living, and lack of public resources per capita, have jointly impaired people's health, especially mental health in cities. Through a study of three mechanisms, namely stress reduction, attention restoration, and social capital promotion, we explored the relationship between green landscape and citizens' mental health status. Positive effects of green landscape on mental health is revealed. To improve human health, we need take several critical actions across individual, community, and city scale.
Speaker: Dr JIANG Bin, Assistant Professor in Landscape Architecture, The University of Hong Kong
Dr Jiang Bin is an assistant professor in Landscape Architecture at the University of Hong Kong. He holds a PhD degree from the University of Illinois at Urbana-Champaign in USA.
Dr Jiang is a co-chair of Research and Methods Track in Council of Educators in Landscape Architecture (CELA) in USA. He is the founder and director of Virtual Reality Lab of Urban Environments and Human Health in HKU.
Dr Jiang's research focuses on investigating impacts of built environment on public health and wellbeing, social justice, sustainable urbanism, and environmental crisis. 3-D technology, visual simulation technology, quantitative research methods, and physiological, psychological, and hormone measures of human health are used for research. Dr. Jiang also works as a landscape planner and designer.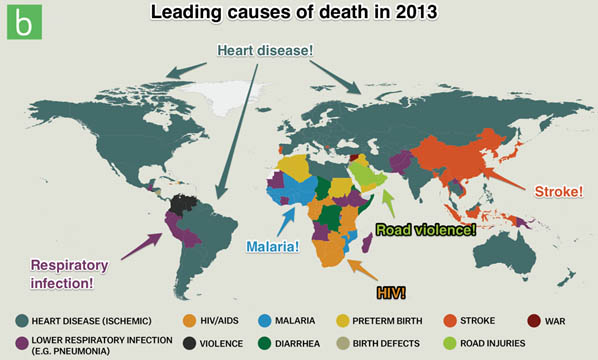 Source: TheLancet.com
Event Detail

Event Name

:
CPD Event - Designing Space for Better Mental Health

Date

:
20 Jun 2018

Time

:
7:00pm - 9:00pm (Registration and reception with refreshment at 6:30pm)

Venue

:
G/F Auditorium, Jockey Club Environmental Building, 77 Tat Chee Avenue, Kowloon Tong

Capacity

:
100

Credits

:

Contact Email

:
enquiry@hkgbc.org.hk

Programme

:

Programme Rundown




Time
Programme
6:30pm-7:00pm
Registration and Reception with Refreshment
7:00 - 7:30 pm
Subjective wellbeing, suicide and socioeconomic factors: an ecological analysis in Hong Kong
Prof. Paul YIP, Hong Kong Jockey Club Centre for Suicide Research and Prevention, HKU
7:30 - 7:50 pm
Spatial Mapping of Geriatric Depression Risks in High Density Cities
Dr Kevin LAU Ka-Lun, CUHK
7:50 - 8:20 pm
Dementia Friendly Environment - Support People with Dementia Living Well in the Community
Mr Kenny CHUI Chi-Man, Jockey Club Centre for Positive Ageing
8:20 - 9:00 pm
Approach to Creating Healthy City: Positive Impacts of Urban Nature on Mental Health
Dr JIANG Bin, HKU

Language

:
English