16 Dec 2022
Greater Bay Area Sustainable Built Environment Conference 2022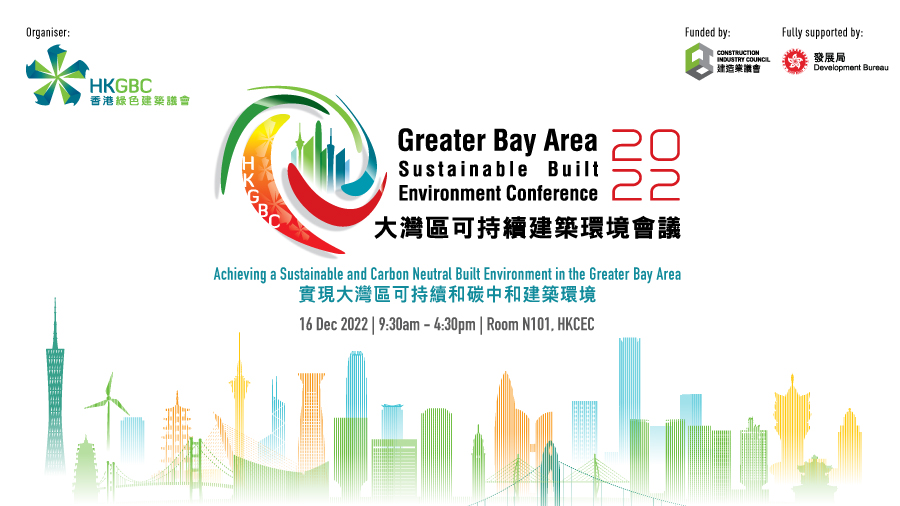 Organised by the Hong Kong Green Building Council (HKGBC), the Greater Bay Area Sustainable Built Environment Conference 2022 will be held on 16 December 2022 (Friday) as part of the CIC Construction Innovation Expo 2022 (CIExpo 2022). Themed "Achieving a Sustainable and Carbon Neutral Built Environment in the Greater Bay Area", the Conference will be held at the Hong Kong Convention & Exhibition Centre in both physical and online format.
The Conference will feature a powerful speaker line-up of leaders from the Mainland and Hong Kong to demonstrate a comprehensive picture of the policy, roadmap, strategies and actions of various key players in the building and construction industry in the Greater Bay Area in leading and contributing to the important carbon neutrality mission.
The Conference will comprise four sessions:
Setting the Scene: Policy and Direction by influential Policy Makers
Strategies for Achieving Carbon Peak and Neutral by Mainland Organisations and Enterprises
Policies and Roadmaps for Achieving Carbon Neutrality by Hong Kong's Public and Private Sectors
Certification Schemes and Innovative Technologies for Carbon Neutrality
Stay tuned for more information about our Speakers and the Programme. Join us to discover the latest development in the built environment in the Greater Bay Area!
To view the event brochure, click HERE.
It takes only a few steps to reserve a seat! If you have any difficulties in registration, please click HERE to view the Registration Guideline.

Event Detail

Event Name

:
Greater Bay Area Sustainable Built Environment Conference 2022

Presented By

:

Hong Kong Green Building Council

Date

:
16 Dec 2022

Time

:
9:30am - 4:30pm (Registration starts at 9:00am)

Venue

:

Meeting Room N101, Hong Kong Convention & Exhibition Centre
(Address: 1 Expo Drive, Wanchai, Hong Kong)
[Live-streaming would proceed in parallel]

Credits

:

Fee

:

Free of Charge

(

HKGBC Members

)


Free of Charge

(

Non-HKGBC members

)

Contact Person

:
Ms Vicky CHAN / Ms Adelaide LI

Contact Phone

:
39948876

Contact Email

:
marketing@hkgbc.org.hk

Programme

:

Time
Programme

9:00am

Registration starts

9:30am - 9:40am

Welcome Speech

Mr CHEUNG Hau-wai, SBS
Chairman
Hong Kong Green Building Council

Session 1:
Setting the Scene: Policy and Direction by influential Policy Makers

9:40am - 9:55am

Decarbonising Cities: The Pathway of Three Common City Pillars


Mr QIU Bao-xing
Academician, International Eurasian Academy of Sciences
Former Deputy Minister, Ministry of Housing Urban-Rural Development
Chairman, Chinese Society for Urban Studies

9:55am - 10:10am

Hong Kong's Climate Action Plan

Mr TSE Chin-wan, BBS, JP
Secretary for Environment and Ecology
The Government of the HKSAR

10:10am - 10:25am

Green Finance Support for Green Building and Infrastructure Development in the Greater Bay Area

Mr Christopher HUI, GBS, JP
Secretary for Financial Services and the Treasury
The Government of the HKSAR

10:25am - 10:40am

Sustainable Built Environment – Shenzhen in Action!


Mr XU Song-ming
Director
Bureau of Housing & Construction of Shenzhen Municipality

10:40am - 10:55am

Thinking and Practice of Green Building in Guangdong-Hong Kong-Macau Greater Bay Area


Mr WANG Hong
Chairman, The Green Building Industry Alliance in Guangdong-HongKong-Macao Greater Bay Area
Chairman, China Construction Science and Industry Corp. Ltd.

10:55am - 11:15am

Break

Session 2:
Strategies for Achieving Carbon Peak and Neutral by Mainland Organisations and Enterprises

11:15am - 11:30am

Green Buildings Promote Achieving Carbon Peak and Carbon Neutrality


Dr WANG Qing-qing
Vice President
China Academy of Building Research

11:30am - 11:45am

New Energy and Carbon Market [Presentation Slides]

Mr GENG Guo-hua
Founding Vice President, Greater Bay Area Carbon Neutrality Association
Executive Director and Chief Executive Director, Add New Energy Investment Holdings Group Limited

11:45am – 12:00nn

Empowering Future Cities towards Sustainability and Carbon Neutrality


Ms WANG Yun
Vice President
China Vanke Co., Ltd.

12:00nn - 12:15pm

The Development of Green Finance in the Greater Bay Area towards Carbon Neutrality

Ms Winnie FAN
Managing Director, Sustainable Finance (Corporate Banking)
Bank of China (Hong Kong) Limited

12:15pm - 2:00pm

Lunch Break

2:00pm - 2:10pm

Keynote Speech

Ms Bernadette LINN, JP
Secretary for Development
The Government of the HKSAR

2:10pm - 2:20pm

Group Photo Session

Session 3:
Policies and Roadmaps for Achieving Carbon Neutrality by Hong Kong's Public and Private Sectors
2:20pm – 2:35pm

Low Carbon Transformation – Sustainable Strategies in Public Housing

Ms Winnie HO, JP
Secretary for Housing
The Government of the HKSAR

2:35pm - 3:25pm

Panel Discussion - Strategies and Actions of the Private Sector for Carbon Neutrality in the Greater Bay Area

Moderator: Prof. Christine LOH, SBS, JP
Chief Development Strategist
Hong Kong University of Science and Technology

Panel Speaker: Mr John HAFFNER
General Manager – Sustainability
Hang Lung Properties Limited

Panel Speaker: Mr Johnny YU
Advisor to Chairman
Henderson Land Development Company Limited

Panel Speaker: Mr Jeff TUNG
Head of Special Projects – Project Management
New World Development Company Limited

Panel Speaker: Dr Raymond YAU
General Manager, Technical Services & Sustainable Development
Swire Properties Limited


3:25pm - 3:40pm

Break

Session 4:
Certification Schemes and Innovative Technologies for Carbon Neutrality
3:40pm - 3:55pm

Role and Development of Hong Kong's Green Built Environment Rating Tool

Mr CHEUNG Hau-wai, SBS
Chairman
Hong Kong Green Building Council

3:55pm – 4:05pm

Smart Green Technologies for Tomorrow's Built Environment in Hong Kong [Presentation Slides]

Dr Raymond YAU
General Manager, Technical Services & Sustainable Development
Swire Properties Limited

4:05pm – 4:15pm

Case Study of Nearly Zero-Energy Buildings in the Greater Bay Area


Mr YANG Shi-chao
Vice-President
Guangdong Provincial Academy of Building Research Group

4:15pm – 4:25pm

From Retro-Commissioning, Retro-fitting to Renovation: What is the Challenge to Reach the "Duel-Carbon" Target in the Greater Bay Area?


Dr WEI Qing-peng
Deputy Director
Building Energy Research Center of Tsinghua University

4:25pm – 4:30pm

Closing Remarks

Dr Benny CHOW
Chairman of Organising Committee
Greater Bay Area Sustainable Built Environment Conference 2022




The Organiser reserves the right to make any changes to the Programme and Speakers without prior notice.

Language

:
English and Putonghua (with simultaneous interpretation - English / Putonghua / Cantonese)