08 Oct 2022
CPD Event - Technical Visit to Veolia Smart Energy Monitoring Centre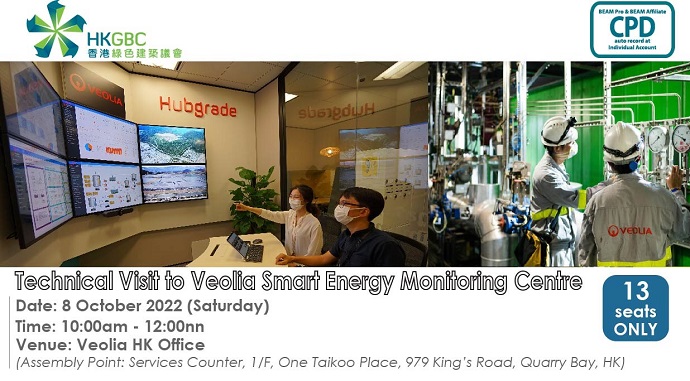 Registration starts at 2:00pm on 26 September 2022 (Monday)
Limited seats. First come, first served.
The event is fully booked. Thank you for your interest in joining.
This event is organised by the Hong Kong Green Building Council.

In Hong Kong, Veolia designed, built and operates landfills, chemical waste/sludge treatment plants and the territory's first district cooling system.
In 2020, Veolia together with a local building services company built a smart energy monitoring centre called Hubgrade in its Quarry Bay office. Currently, they are undertaking a number of energy performance and RCx contracts, which are all monitored in the centre. IoT, AI, LoRaWAN and cloud solutions are deployed in the system.
With Hubgrade, Veolia engineers conduct descriptive, predictive and prescriptive analytics on data pulled from various facilities in the territory. Hubgrade offers analysts a comprehensive picture of the systems' performance including operational efficiency and carbon footprint. The data is shared within Veolia globally for benchmarking. Veolia engineers leverage this transparency to develop new optimisation strategies constantly.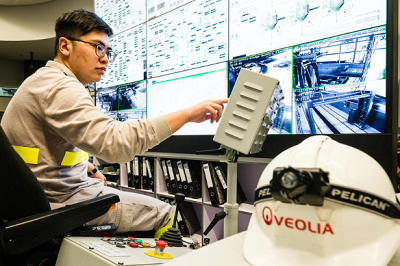 Event Detail

Event Name

:
CPD Event - Technical Visit to Veolia Smart Energy Monitoring Centre

Presented By

:

Representatives from Veolia

Date

:
08 Oct 2022

Time

:
10:00am - 12:00nn (Registration starts at 9:45am)

Venue

:

Veolia HK Office on 40/F

(Assembly Point: Swire Properties Management Counter, 1/F, One Taikoo Place, 979 King's Road, Quarry Bay, Hong Kong)

Capacity

:
13

Credits

:

Fee

:
HK$50.00 (

HKGBC Members

)
HK$75.00 (

HKGBC Non-Members

)

Contact Person

:
Ms Chloe SHIU

Contact Phone

:
39948890

Contact Email

:
eventregis@hkgbc.org.hk

Programme

:

9:45am - 10:00am

Registration and Assembly at 1/F counter, One Taikoo Place


10:00am - 12:00nn

Presentation, centre visit and discussion

12:00nn

Dismissal




Language

:
Cantonese
Important Notes
1. Successful registrants will receive an email confirmation with details in due course.
2. Please be punctual. Latecomers will NOT be picked up and will NOT be allowed to join the visit.
3. The event will be cancelled when the Typhoon Signal No.8 or above, or Black Rainstorm Signal is hoisted 3 hours before the event commences.
4. While HKGBC will arrange group personal accident insurance, the participants may consider taking out their own insurance to cover their own risks.
5. Due to conditions of insurance, participants of this event must be aged 18 to 65 as of year 2022.
6. Participants should note that neither HKGBC nor the parties concerned would accept liability in connection with this event.
7. No Show / Cancellation – Cancellation must be made by email to eventregis@hkgbc.org.hk with justification on or before 5 October 2022, 12:00 noon. Please quote your registration number in the email. There is NO refund on absence from the event and cancellation made after the deadline.
COVID-19 precautions
1. If you feel unwell, have fever or any sickness symptoms, please refrain from joining the visit. Refund of fee will be arranged by HKGBC upon presentation of doctor's certificate.
2. All participants are required to take (at their own cost) a Rapid Antigen Test with negative result in the morning on the day of the visit.
3. Only participants who have submitted the health declaration and the RAT test result to HKGBC before the visit are allowed to join.
4. Participants must comply with the relevant restrictions under Cap. 599F, including the Vaccine Pass. Please see Annex for Vaccine Pass Requirements issued by the Government.
5. All participants are required to wear a face mask during the course of the activity.
6. All participants are required to follow the COVID-related procedures enforced by the office representative.