30 Sep 2022
CPD Webinar - Enhanced IAQ Management Practices in light of COVID-19 Pandemic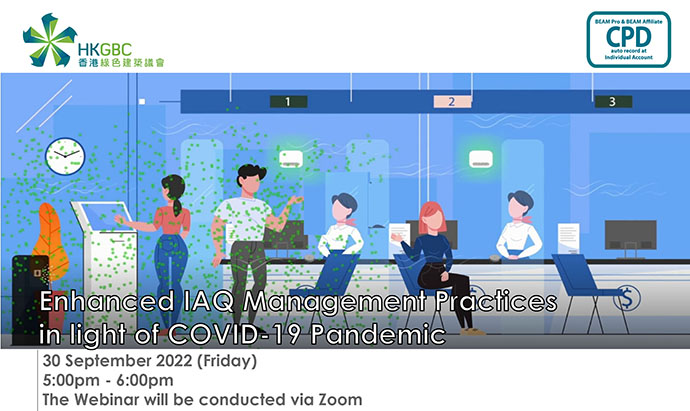 The webinar recording will be available at HKGBC CPD Online Training Portal (https://onlinecpdtraining.hkgbc.org.hk/) later after the event.


This webinar is organised by the Hong Kong Green Building Council.
Part 1 - Let's Clear the Air
In this webinar, representative from Airguard Industries (Hong Kong) Limited will cover Indoor Air Quality (IAQ) monitoring and management using state-of-the-art technologies. The speaker will cover these two topics:
The tangible effects of IAQ regulations in indoor environments;
The application of technology and data-driven methods to improve IAQ.
The speaker will first examine the government's IAQ regulations and introduce the problem of enforcing such standards. This will be followed by a few case studies and data visualisations of multiple Grade-A buildings and public indoor areas that have proven to display elevated CO2 and bacterial levels due to poor IAQ management.
AirGuard will then provide some applications for using IoT sensors, 5G networks, big data analytics, early AI warning systems and an innovative air sanitising liquid cum active filtration system for the effective IAQ management of buildings.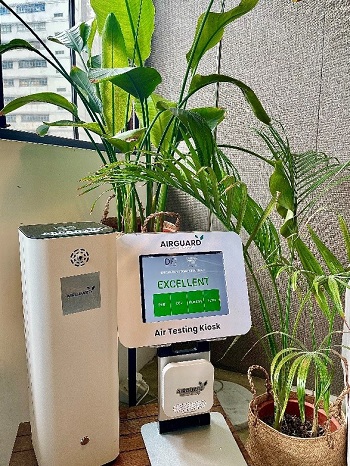 Part 2 - Non-conventional Ventilation System for Restaurants to Avoid Spread of COVID-19
In a typical ventilation system using Air Handling Units (AHUs) in a large restaurant, the supply air flows from the ceiling level through an array of evenly distributed air grilles over the occupied area. Meanwhile the return air is extracted at the ceiling level from the side edges of the occupied zone. This overhead ventilation system forces air at high velocities to achieve a complete mixing of air to maintain the desired temperature in the occupied zone. Exhaled air from patrons at each table is mixed with the incoming air and spreads horizontally to neighbouring tables. In the event of an index case at one table, diners at neighbouring tables within short distances are likely to be infected. Furthermore, the exhaled air from the index case may be extracted through the return air grilles and be carried to tables further away through the AHUs and supply air ducts.
In this talk, Ir Dr CHAN Hon-fai proposes a non-conventional air ventilation system to avoid the lateral spread and long distance spread of COVID-19 virus through the ventilation system.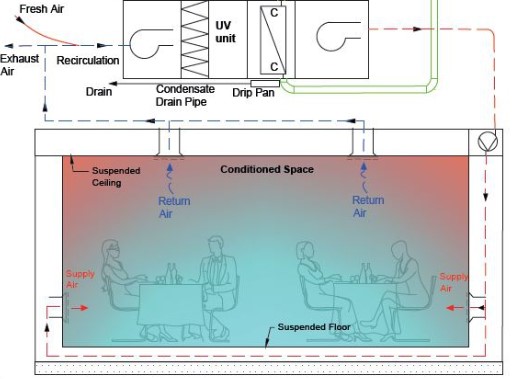 Speakers:
Ms Sophiya CHIANG, Director of Product Innovation, Airguard Industries (HK) Ltd
Ms Sophiya CHIANG is a data scientist and leader in the technology start-up space with the mission to champion inclusive entrepreneurship and sustainable systems to shape the future of our cities.
Prior to joining AirGuard as Director of Product Innovation, Sophiya was most recently the Head of Product and Technology at Rice Robotics, a start-up in Hong Kong building multifunctional autonomous service robots. Prior to Rice, Sophiya was the Head of Development and an AI Engineer at a UK-based defence drone company. She has also worked as a research assistant at the MIT Media Lab.
Sophiya holds a B.A. in Computer Science from Wellesley College and an MSc in Advanced Computing from Imperial College, London.
Ir Dr CHAN Hon-fai, Managing Director, Cinotech Consultants Ltd
Ir Dr CHAN has more than 40 years of practice in the field of environmental management, environmental planning, and pollution control in Hong Kong, including more than 5 years in the Environmental Protection Department. He has lectured at the Hong Kong Polytechnic University, the City University of Hong Kong and the Hong Kong University of Science and Technology and is currently an Adjunct Associate Professor at The University of Hong Kong.
Ir Dr CHAN is a fellow member of the Hong Kong Institution of Engineers, Hong Kong Institute of Qualified Environmental Professionals, Hong Kong Institute of Environmental Impact Assessment, Hong Kong Institute of Acoustics, an Honorary fellow member of the Energy Institute, and a Registered Asbestos Consultant. He is also the Founding President of the Hong Kong Institute of Water and Sanitation Safety.
Event Detail

Event Name

:
CPD Webinar - Enhanced IAQ Management Practices in light of COVID-19 Pandemic

Presented By

:

Ms Sophiya CHIANG, Ir Dr CHAN Hon-fai

Date

:
30 Sep 2022

Time

:
5:00pm - 6:00pm

Venue

:

This CPD event will be conducted in the form of webinar via Zoom.

(An event reminder with Zoom Webinar ID will be provided at around a week before the event.)

Capacity

:
700

Credits

:

Fee

:

Free of Charge

(

HKGBC Members

)


Free of Charge

(

HKGBC Non-Members

)

Contact Person

:
Ms Wing CHOW

Contact Phone

:
39948853

Contact Email

:
eventregis@hkgbc.org.hk

Programme

:



| | |
| --- | --- |
| 5:00pm - 5:50pm | Talk by the Speakers |
| 5:50pm - 6:00pm | Q&A Session |

Language

:
English
Enjoy Member Price with Your BEAM Pro/ BEAM Affiliate Credential Now!
IMPORTANT NOTES:
For BEAM Pro / BEAM Affiliate: Once you entered the valid BEAM Pro / BEAM Affiliate number during registration, member price will be entitled. Please register by clicking "Register (for BEAM Pro / BEAM Affiliate or non-member)".

Seats are available on a first-come-first-served basis. Upon submission through this Online Registration Form, a seat is reserved for you.




Please settle the fee before the event commences. At around a week before the event, email reminders of the event with the Zoom Webinar ID will be sent out to those who have successfully paid.




The URL to join the webinar is unique to the email account that you have registered with. Please do not forward the link to other email accounts.



No Show / Cancellation

– Cancellation must be made by email to

eventregis@hkgbc.org.hk

on or before 29 September 2022 12:00 noon

. Please quote your registration number in the email. There is

NO refund on absence from the event and cancellation made after the deadline.


Certificate of attendance will be issued by email around a week after the event.




The CPD hour(s) will be automatically uploaded to attendees' BEAM Pro / BEAM Affiliate Individual Account around a week after the event.



Limited seats. First come, first served.