20 Aug 2022
Skills Upgrading Series for Green Building Practitioners - (1) Indoor Air Quality (IAQ) Engineering (20 and 27 Aug 2022)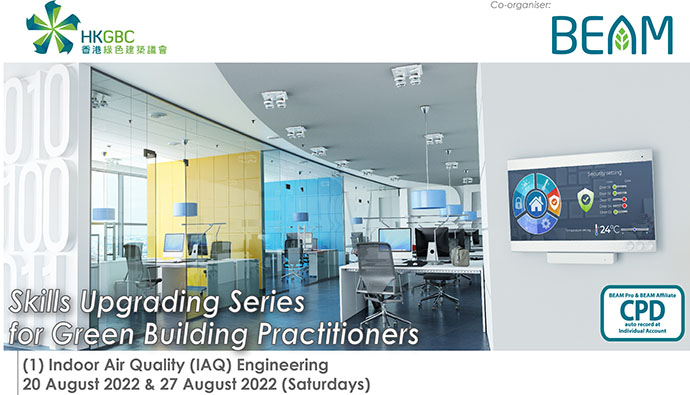 Co-organised by the Hong Kong Green Building Council and BEAM Society Limited.
Organised by the Hong Kong Green Building Council (HKGBC), the series of Skills Upgrading courses are designed to give participants continuing education that is more in-depth than traditional CPD webinars. The first round of this Skills Upgrading programme started in March 2021 and was concluded in February 2022. From August 2022 to August 2023, another round of Skills Upgrading courses will be organised again by the HKGBC to enable practitioners to construct individual programmes of weekend studies that meet their development needs.
Course No. 1: Indoor Air Quality (IAQ) Engineering
This "IAQ Engineering" course, which consists of two half-day lectures totalling 6 hours and is co-organised with BEAM Society Limited, will cover the following topics:
What and why of IAQ management, definition of acceptable level
Sick Building Syndrome, Legionnaires' Disease and building-related illnesses
Factors affecting IAQ and related equation
Government IAQ objectives and framework of control
Discussion of different IAQ parameters including CO2, radon, particulate matters, VOC, formaldehyde, ozone, combustion pollutants, microorganisms and SARS transmission
Filters, air cleaner mechanisms and performance indicators such as CADR, air cleaning effectiveness
Thermal comfort – EPD recommendations, thermal comfort zone, draught, PMV and PPD
Related credits in BEAM Plus about IAQ management
Target Audience:
Persons who have not received formal and structured training on IAQ. Participants who have attended the same course on 24 April 2021 and 8 May 2021 need NOT enrol as the course contents are similar.
Date: 20 August & 27 August 2022 (Saturdays)
Time: 9:00am - 12:30pm (Registration starts at 8:45am)
Venue: The programme will be conducted via Zoom
Trainers:
Dr Edwin TSO Chi-yan, School of Energy and Environment, City University of Hong Kong
Ir Emily WONG, Manager - Project Assessment, BEAM Society Limited
- 40-minute sharing on BEAM Plus credits related to IAQ on 27 August 2022 only
Event Detail

Event Name

:
Skills Upgrading Series for Green Building Practitioners - (1) Indoor Air Quality (IAQ) Engineering (20 and 27 Aug 2022)

Presented By

:

Dr Edwin TSO Chi-yan, Ir Emily WONG

Date

:
20 Aug 2022

Time

:
9:00am – 12:30pm (Registration starts at 8:45am)

Venue

:

This CPD event will be conducted in the form of webinar via Zoom.




(An event reminder with Zoom Webinar ID will be provided around a week before the event.)

Capacity

:
200

Credits

:

Fee

:
HK$430.00 (

HKGBC Members

)
HK$650.00 (

HKGBC Non-Members

)

Contact Person

:
Ms Chloe Shiu

Contact Phone

:
39948890

Contact Email

:
eventregis@hkgbc.org.hk

Programme

:




20 August 2022

| | |
| --- | --- |
| 9:00am - 12:30pm | Talk by Dr Edwin TSO |




27 August 2022

| | |
| --- | --- |
| 9:00am - 11:35am | Talk by Dr Edwin TSO |
| 11:35am - 11:50am | Break |
| 11:50am - 12:30pm | Talk by Ir Emily WONG |

Language

:
Cantonese with English materials
Important Notes:
Lecture notes will be issued in electronic form before each lecture.

The organiser reserves the right to change the dates of the lectures in case of adverse weather conditions.

No Show / Cancellation

– Cancellation must be made by email to eventregis@hkgbc.org.hk on or before

19 August

2022, 12:00 noon

. Please quote your registration number in the email. There is NO refund on absence from the event and cancellation made after the deadline.
A 'Certificate of Attendance' will be issued if a participant fully attends a topic (i.e. both lectures are attended).


Persons who have attended 8 or more different subjects (can be counted from the first course launched in March 2021, which was the first round of courses) under the Skills Upgrading series may apply for a "Comprehensive Certificate of Attendance" from the Secretariat to signify their achievement.

Members of BSL can also enjoy the Member price. For details, please contact BSL Secretariat.

Limited seats. First come first served.