07 Jun 2022
CPD Webinar - Passive Radiative Cooling Technology and Intelligent Thermo-responsive Windows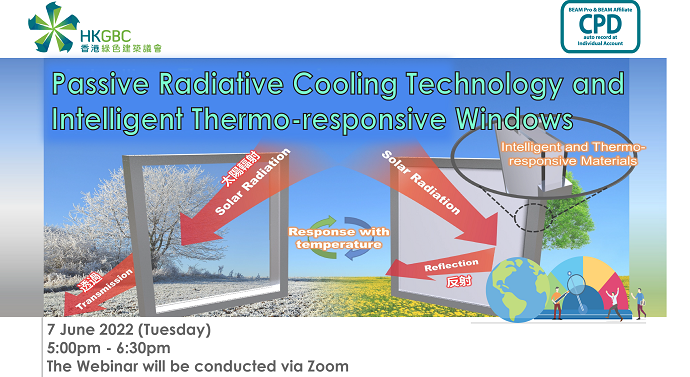 The webinar recording will be available at HKGBC CPD Online Training Portal (https://onlinecpdtraining.hkgbc.org.hk/) later after the event.


This webinar is organised by the Hong Kong Green Building Council.
(1) Passive Radiative Cooling Technology
To provide a sustainable and energy-saving solution to the consumption of electricity in buildings, CityU research team has developed a passive radiative cooling paint, using the universe as a cooling source. Unlike traditional air-conditioning system, the passive radiative cooling paint is an energy-free and refrigerant-free cooling technology that reflects incoming solar irradiance, while emitting thermal radiation to the cold universe and achieving sub-ambient cooling. This self-cooling technology possesses many advantages, such as a simple structure, easy manufacturing and low cost. Directly coating this paint on a building's roof or exterior walls will reduce its surface temperature and save on air-conditioning energy.
The technology received the Gold Medal with Congratulations of the Jury award at Inventions Geneva Evaluation Days (IGED) 2021.
(2) Intelligent Thermo-responsive Windows
This novel smart window can autonomously regulate solar transmittance in response to the outside temperature. The smart window is transparent in cold weather, allowing solar radiation to pass through to warm a room, and is opaque in hot weather, blocking solar radiation to prevent overheating. This invention can promote the development of energy-efficient and sustainable buildings.
The technology received the Gold Medal award at Inventions Geneva Evaluation Days (IGED) 2022.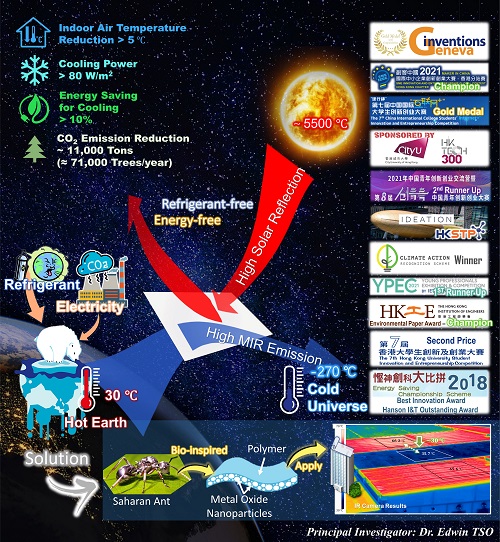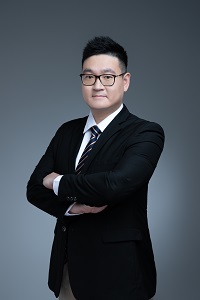 Speaker: Dr Edwin TSO, School of Energy and Environment, CityU
Dr. TSO received his Bachelor's degree in Mechanical Engineering (First class), MPhil degree in Environmental Engineering and PhD degree in Mechanical Engineering from The Hong Kong University of Science and Technology (HKUST) in 2010, 2012 and 2015, respectively. He was awarded the Fulbright – Research Grant Council (RGC) Hong Kong Research Fellowship in 2014, and studied at the University of California, Berkeley (UC Berkeley) in 2015. After he came back from the UC Berkeley, he was a Research Associate at the Department of Mechanical and Aerospace Engineering (MAE), HKUST from 2015-2016, and promoted to the rank of Research Assistant Professor (2016-2018) before he joined CityU in Sep of 2018 as an Assistant Professor. He was also a Junior Fellow at the HKUST Jockey Club Institute for Advanced Study from 2016-2018 when he was at HKUST. Dr. TSO's research interest covers thermofluid, heat transfer, energy and built environment, and energy efficient building technology, particularly, in the fields of adsorption technology, thermal diodes/switches, nanofluids/hybrid nanofluids, thermochromic smart windows and passive radiative cooling using numerical simulations as well as advanced experimental techniques. Dr. TSO is also active in entrepreneurship and technology transfer, and has been involved in setting up a start-up in 2012.
Dr. TSO focuses on understanding the fundamentals of heat transfer, energy conversion and engineered material science with the target of integrating theory and experiments to create innovative solutions to enhance thermal management, built environment, space cooling and refrigeration, micro-droplet manipulation and energy-efficient building technologies, making a great and global impact by addressing the biggest needs and issues in our world.
Event Detail

Event Name

:
CPD Webinar - Passive Radiative Cooling Technology and Intelligent Thermo-responsive Windows

Presented By

:

Dr Edwin TSO

Date

:
07 Jun 2022

Time

:
5:00pm - 6:30pm

Venue

:

This CPD event will be conducted in the form of webinar via Zoom.

(An event reminder with Zoom Webinar ID will be provided at around a week before the event.)

Capacity

:
700

Credits

:

Fee

:

Free of Charge

(

HKGBC Members

)
HK$50.00 (

HKGBC Non-Members

)

Contact Person

:
Ms Wing CHOW

Contact Phone

:
39948853

Contact Email

:
eventregis@hkgbc.org.hk

Programme

:



| | |
| --- | --- |
| 5:00 pm - 6:15 pm | Talk by the Speaker |
| 6:15 pm - 6:30 pm | Q&A Session |

Language

:
Cantonese with English key words
Enjoy Member Price with Your BEAM Pro/ BEAM Affiliate Credential Now!
IMPORTANT NOTES:
For BEAM Pro / BEAM Affiliate: Once you entered the valid BEAM Pro / BEAM Affiliate number during registration, member price will be entitled. Please register by clicking "Register (for BEAM Pro / BEAM Affiliate or non-member)".

Seats are available on a first-come-first-served basis. Upon submission through this Online Registration Form, a seat is reserved for you.




Please settle the fee before the event commences. At around a week before the event, email reminders of the event with the Zoom Webinar ID will be sent out to those who have successfully paid.




The URL to join the webinar is unique to the email account that you have registered with. Please do not forward the link to other email accounts.



No Show / Cancellation

– Cancellation must be made by email to

eventregis@hkgbc.org.hk

on or before 6 June 2022 12:00 noon

. Please quote your registration number in the email. There is

NO refund on absence from the event and cancellation made after the deadline.


Certificate of attendance will be issued by email around a week after the event.




The CPD hour(s) will be automatically uploaded to attendees' BEAM Pro / BEAM Affiliate Individual Account around a week after the event.



Limited seats. First come, first served.