19 May 2022
CPD Webinar - Carbon Neutrality Roadmap, Certified Carbon Reduction & RE Certificates in China cum Opportunities for Real Estate Industry in HK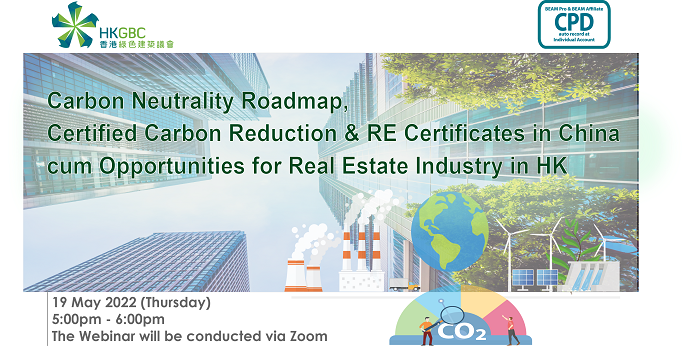 The webinar will be available at HKGBC CPD Online Training Portal (https://onlinecpdtraining.hkgbc.org.hk/) later after the event.

This webinar is organised by the Hong Kong Green Building Council.
China is currently undergoing an unprecedented stage of development in decarbonising its national economy. The country targets to achieve carbon peak around 2030, and carbon neutrality by 2060 (the "Dual Carbon" policy). It is anticipated that 90% of power should come from clean and renewables by 2050. In fact, China is already the global leader in solar photovoltaics and electric vehicles, and will develop the largest mandatory and voluntary carbon credit markets in the world. What are the implications and opportunities for the real estate in Hong Kong?

This talk will focus on:
• An overview of the current status of the "Dual Carbon" national targets and its implementation in China; what makes China different from the rest of the world;
• The responses by the building industry in China – the decarbonisation landscape;
• Current status of Certified Carbon Emission Reduction (CCER) and Renewable Energy (RE) Certificates in China; and
• The implications and opportunities for the real estate and building industry in Hong Kong to mitigate carbon emission and achieve carbon neutrality.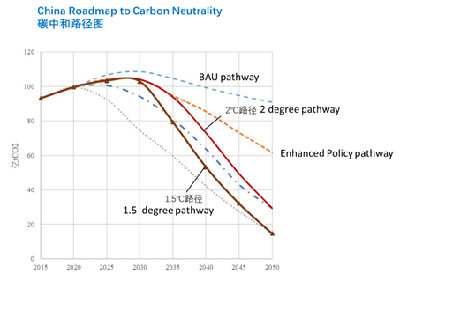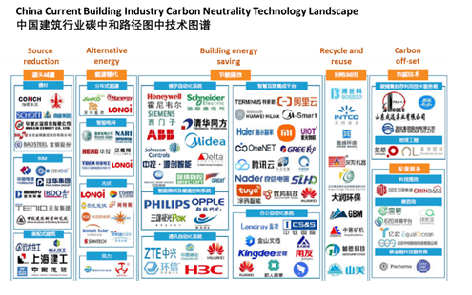 Speaker:

Dr Stanley YIP, CEO of NanRise PTE Ltd
With over 30 years of global business and professional experience, Dr YIP is an internationally recognised leading expert and practitioner in eco and smart cities, green building, carbon neutrality roadmaps, resilience and climate adaptation in China, Singapore and Malaysia. He is currently the founder of NanRise PTE Ltd, a spin-off company from the Nanyang Technological University (NTU), Singapore, which has operations in Singapore and China.
With NTU support as the strategic shareholder, NanRise builds four business vectors around decarbonisation for cities: (1) Technologies: Commercialisation of innovative decarbonisation technologies; (2) Design: Planning, design and implementation of carbon neutral and climate resilient development projects; (3) Green finance: Managing decarbonisation technology investment funds and facilitating carbon assets transactions; (4) Data: Development of data analytics on carbon asset management.
Dr YIP has received many international awards for projects led by him. He is a five-time receiver of the Hong Kong Green Building Awards (Research and Planning).
Event Detail

Event Name

:
CPD Webinar - Carbon Neutrality Roadmap, Certified Carbon Reduction & RE Certificates in China cum Opportunities for Real Estate Industry in HK

Presented By

:
Dr Stanley YIP

Date

:
19 May 2022

Time

:
5:00pm - 6:00pm

Venue

:

This CPD event will be conducted in the form of webinar via Zoom.

(An event reminder with Zoom Webinar ID will be provided at around a week before the event.)

Capacity

:
700

Credits

:

Fee

:

Free of Charge

(

HKGBC Members

)
HK$50.00 (

Non-HKGBC members

)

Contact Person

:
Ms Wing CHOW

Contact Phone

:
39948853

Contact Email

:
eventregis@hkgbc.org.hk

Programme

:



| | |
| --- | --- |
| 5:00 pm - 5:45 pm | Talk by the Speaker |
| 5:45 pm - 6:00 pm | Q&A Session |

Language

:
English with Bilingual Key Words
Enjoy Member Price with Your BEAM Pro/ BEAM Affiliate Credential Now!
IMPORTANT NOTES:
For BEAM Pro / BEAM Affiliate: Once you entered the valid BEAM Pro / BEAM Affiliate number during registration, member price will be entitled. Please register by clicking "Register (for BEAM Pro / BEAM Affiliate or non-member)".

Seats are available on a first-come-first-served basis. Upon submission through this Online Registration Form, a seat is reserved for you.




Please settle the fee before the event commences. At around a week before the event, email reminders of the event with the Zoom Webinar ID will be sent out to those who have successfully paid.




The URL to join the webinar is unique to the email account that you have registered with. Please do not forward the link to other email accounts.



No Show / Cancellation

– Cancellation must be made by email to

eventregis@hkgbc.org.hk

on or before 18 May 2022 12:00 noon

. Please quote your registration number in the email. There is

NO refund on absence from the event and cancellation made after the deadline.


Certificate of attendance will be issued by email around a week after the event.




The CPD hour(s) will be automatically uploaded to attendees' BEAM Pro / BEAM Affiliate Individual Account around a week after the event.



Limited seats. First come, first served.