20 Apr 2022
CPD Webinar - Radiant Ceiling Panel System: An Energy Saving, Heating and Cooling Alternative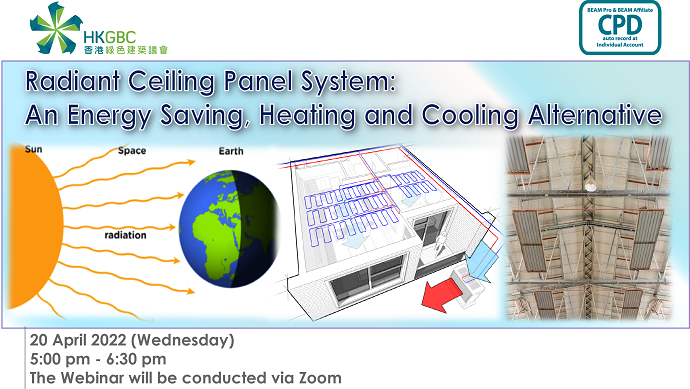 The webinar recording will be available at HKGBC CPD Online Training Portal (https://onlinecpdtraining.hkgbc.org.hk/) later after the event.


This webinar is organised by the Hong Kong Green Building Council.
Radiant ceiling panel systems can be used during a building retrofit process while earning points toward green building certification.
Energy saving is the main reason for adopting radiant ceiling systems, which become one of the most beneficial solutions for both designers and end users. The low consumption of the systems makes it an excellent choice with the aim to cool or heat large spaces or perform energy efficiency improvement works on existing buildings.
Since the temperature reached by the water circulating in the system is within the milder range of temperatures (allowing lower consumption than other solutions), these panels are also the perfect solution for heating or cooling second homes and large rooms. Thanks to the energy savings they allow.
In the webinar, the speaker will walk through the radiant heating/cooling (chilled) ceiling working principles and benefits of adopting radiant ceiling panel system. Some studies on the radiant ceiling cooling system through simulation and verification will be shared, and the radiant ceiling load basic calculation and preparation of necessary material list according to existing practices will also be covered.
Speaker: Mr Aaron Lindel WU (MEP), Technical Manager of Giacomini Asia-pacific Limited
Event Detail

Event Name

:
CPD Webinar - Radiant Ceiling Panel System: An Energy Saving, Heating and Cooling Alternative

Presented By

:

Mr Aaron Lindel WU

Date

:
20 Apr 2022

Time

:
5:00 pm - 6:30 pm

Venue

:

This CPD event will be conducted in the form of webinar via Zoom.

(An event reminder with Zoom Webinar ID will be provided at around a week before the event.)

Capacity

:
700

Credits

:

Fee

:

Free of Charge

(

HKGBC Members

)
HK$50.00 (

HKGBC Non-Members

)

Contact Person

:
Ms Wing CHOW

Contact Phone

:
39948853

Contact Email

:
eventregis@hkgbc.org.hk

Programme

:



| | |
| --- | --- |
| 5:00 pm - 6:15 pm | Talk by the Speaker |
| 6:15 pm - 6:30 pm | Q&A Session |

Language

:
English
Enjoy Member Price with Your BEAM Pro/ BEAM Affiliate Credential Now!
IMPORTANT NOTES:
For BEAM Pro / BEAM Affiliate: Once you entered the valid BEAM Pro / BEAM Affiliate number during registration, member price will be entitled. Please register by clicking "Register (for BEAM Pro / BEAM Affiliate or non-member)".

Seats are available on a first-come-first-served basis. Upon submission through this Online Registration Form, a seat is reserved for you.




Please settle the fee before the event commences. At around a week before the event, email reminders of the event with the Zoom Webinar ID will be sent out to those who have successfully paid.




The URL to join the webinar is unique to the email account that you have registered with. Please do not forward the link to other email accounts.



No Show / Cancellation

– Cancellation must be made by email to

eventregis@hkgbc.org.hk

on or before 19 April 2022 12:00 noon

. Please quote your registration number in the email. There is

NO refund on absence from the event and cancellation made after the deadline.


Certificate of attendance will be issued by email around a week after the event.




The CPD hour(s) will be automatically uploaded to attendees' BEAM Pro / BEAM Affiliate Individual Account around a week after the event.



Limited seats. First come, first served.