25 Feb 2022
CPD Webinar - An Innovative Product Combining Glass & Solar Power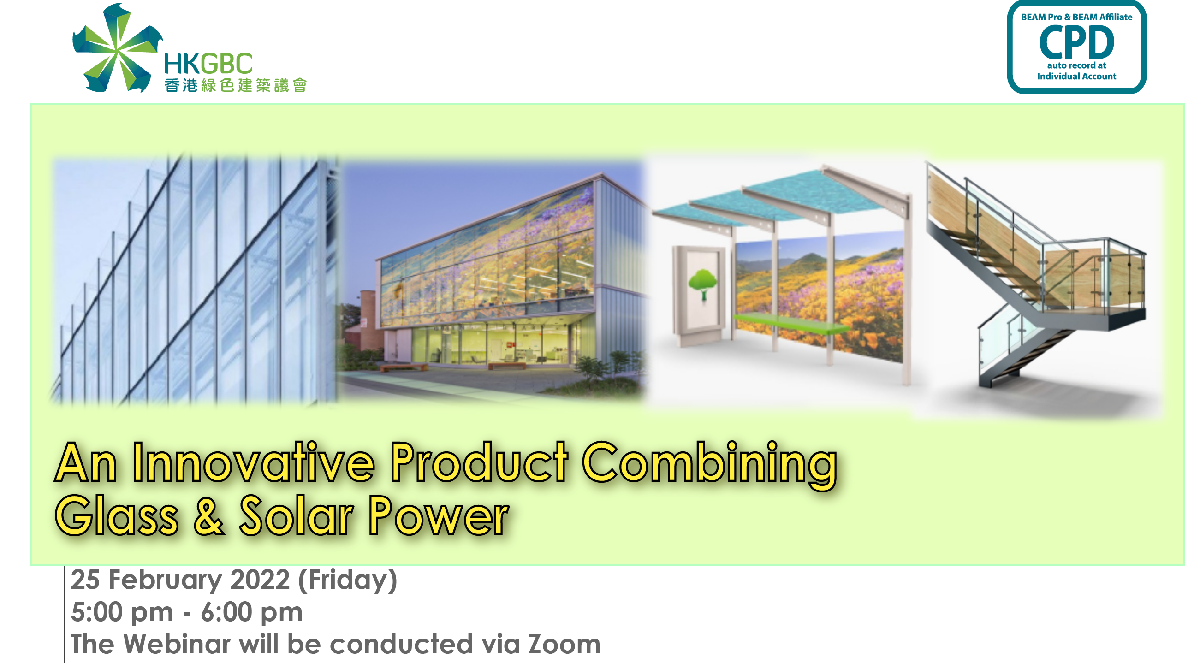 The webinar will be available at HKGBC CPD Online Training Portal (https://onlinecpdtraining.hkgbc.org.hk/) later after the event.
Please stay tuned.
This webinar is organised by the Hong Kong Green Building Council.
Have you ever thought of turning the curtain walls of a building into a power generating device? In this webinar, a highly practical power-generating glass product that can be applied to roofs, skylights, canopies, fences, atriums, sky-bridges, windscreens and signboards, etc. will be introduced. The product combines glass and solar power panel into one, helping to reduce carbon emissions, save energy and generate electricity. The product uses non-combustible materials with a high density, which could withstand sand, dust and water attacks. The product possesses a number of properties including high heat resistance, sound insulation and wind resistance. The attribute of solar cell modules is light absorption. By combining glass and thin-film solar cells, the product can still perform well even under vertical mounting position and low light conditions.
This innovative technology breaks the transparency effect that is lacking in ordinary solar cells. By incorporating colours, images, graphics and light transmission effects into one product, it will enhance the aesthetic sense and usability without affecting its functions. In the webinar, the speaker will talk more about the product features and its potential applications.
ARTI, which stands for Applied Renewable Technology Innovation, was established in 2021. It is a Hong Kong start-up company specializing in solar-related products such as night lights, pesticide sprayers, agricultural irrigation systems and green houses. They also participate in building-integrated photovoltaics projects as consultant.
The company and its solar glass product have recently been reported in the news, you may click HERE to read that news.
Speaker: Mr Alen CHENG, Sales Manager, ARTI Co. Limited
Event Detail

Event Name

:
CPD Webinar - An Innovative Product Combining Glass & Solar Power

Presented By

:

Mr Alen CHENG

Date

:
25 Feb 2022

Time

:
5:00 pm - 6:00 pm

Venue

:

This CPD event will be conducted in the form of webinar via Zoom.

(An event reminder with Zoom Webinar ID will be provided at around a week before the event.)

Capacity

:
700

Credits

:

Fee

:

Free of Charge

(

HKGBC Members

)
HK$50.00 (

HKGBC Non-Members

)

Contact Person

:
Ms Wing CHOW

Contact Phone

:
39948853

Contact Email

:
eventregis@hkgbc.org.hk

Programme

:

| | |
| --- | --- |
| 5:00 pm - 5:50 pm | Talk by the Speaker |
| 5:50 pm - 6:00 pm | Q&A Session |

Language

:
Cantonese, with English Presentation Materials
Enjoy Member Price with Your BEAM Pro/ BEAM Affiliate Credential Now!
IMPORTANT NOTES:
For BEAM Pro / BEAM Affiliate: Once you entered the valid BEAM Pro / BEAM Affiliate number during registration, member price will be entitled. Please register by clicking "Register (for BEAM Pro / BEAM Affiliate or non-member)".

Seats are available on a first-come-first-served basis. Upon submission through this Online Registration Form, a seat is reserved for you.




Please settle the fee before the event commences. At around a week before the event, email reminders of the event with the Zoom Webinar ID will be sent out to those who have successfully paid.




The URL to join the webinar is unique to the email account that you have registered with. Please do not forward the link to other email accounts.



No Show / Cancellation

– Cancellation must be made by email to

eventregis@hkgbc.org.hk

on or before 24 February 2022 12:00 noon

. Please quote your registration number in the email. There is

NO refund on absence from the event and cancellation made after the deadline.


Certificate of attendance will be issued by email around a week after the event.




The CPD hour(s) will be automatically uploaded to attendees' BEAM Pro / BEAM Affiliate Individual Account around a week after the event.



Limited seats. First come, first served.