20 Jan 2022
CPD Webinar - Smart AC On-demand Solution for Commercial Offices and Buildings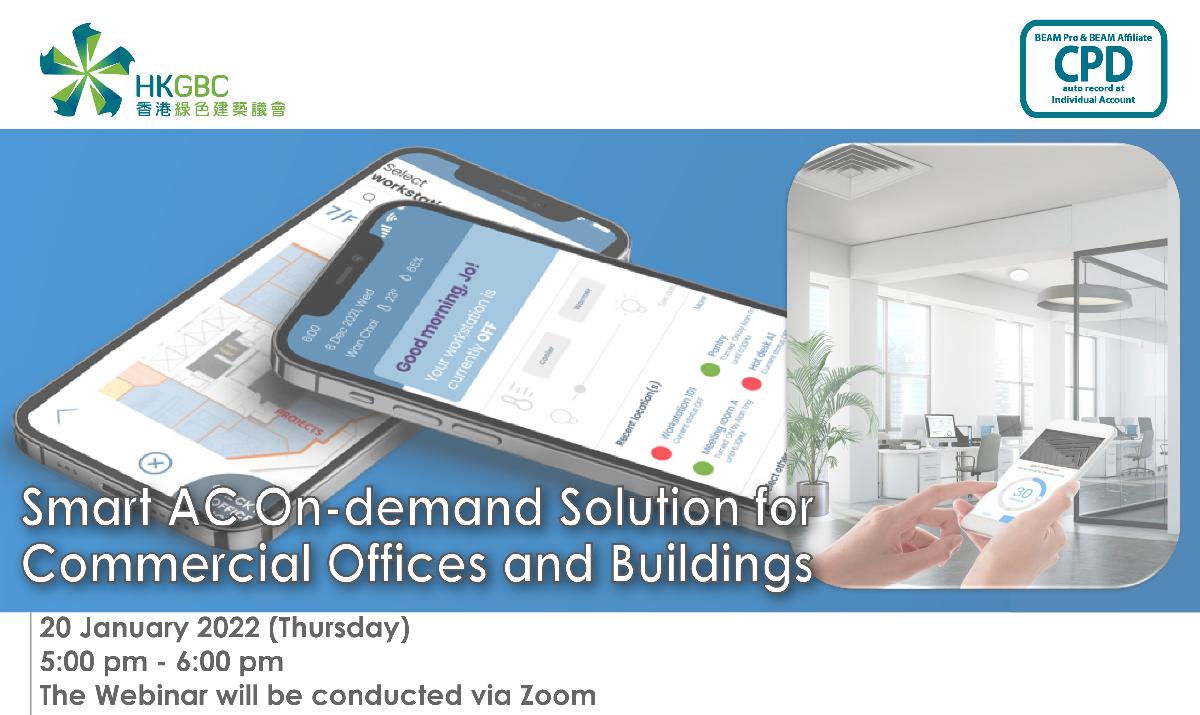 The webinar will be available at HKGBC CPD Online Training Portal (https://onlinecpdtraining.hkgbc.org.hk/) later after the event.
Please stay tuned.
This webinar is organised by the Hong Kong Green Building Council.
In the commercial real estate sector, there is a fundamental shift in operating practice. The industry once focused on managing and maintaining physical assets. This has now shifted to creation of good user experience. In modern offices that are cooled by central air-conditioning (AC) system, people in the space are often too cold or too hot. This results in wastage of energy and leads to discomfort.
In this talk, an award-winning prop tech company will share how a smart AC on-demand solution can enhance comfort and reduce energy consumption. The solution is to adopt a human-centric and energy-conscious approach to solving a number of problems including how to determine the base temperature for a zone, how to respond to occupants' transient needs and how to cope with spatial variances in cooling demands. The control works with all major brands of VAV, VRV and FCU. Its AI-powered algorithm would learn users' preferences over time and automatically finds the optimal settings for the space. Success stories from across the region will help demonstrate how this approach can deliver results.
The prop tech company was a winner of the 2017 Jumpstarter Competition organised by Alibaba HK Entrepreneurs Fund. Recently, the company has received the Hong Kong Rising Star award from the Deloitte Hong Kong Technology Fast & Rising Star Programme.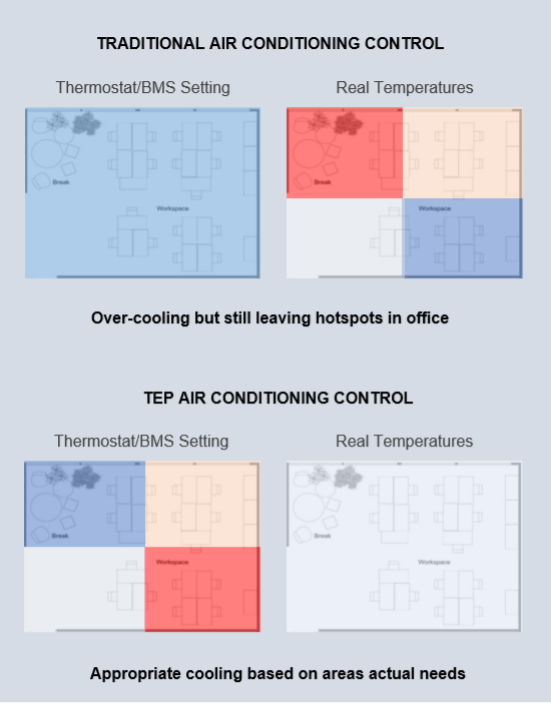 Copyright: En-trak Tenant Experience Platform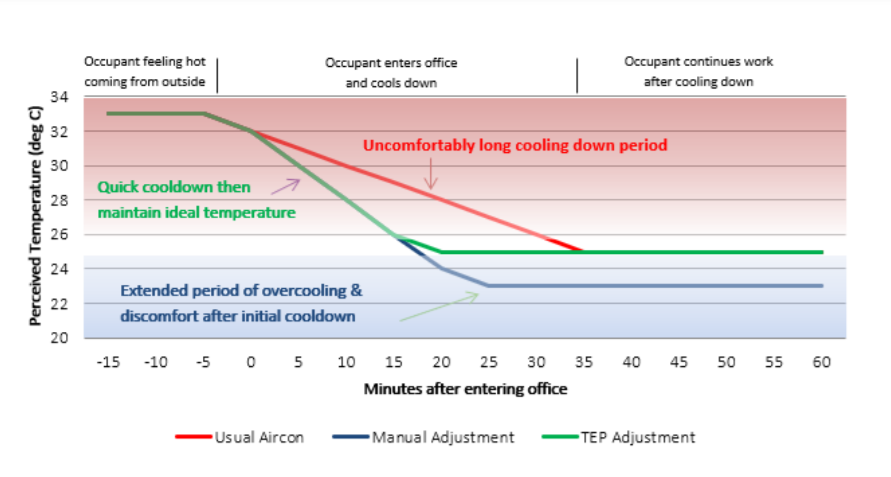 Copyright: En-trak Tenant Experience Platform
Speaker: Mr Clement CHENG, Solution Manager, En-trak
Event Detail

Event Name

:
CPD Webinar - Smart AC On-demand Solution for Commercial Offices and Buildings

Presented By

:

Mr Clement CHENG

Date

:
20 Jan 2022

Time

:
5:00 pm - 6:00 pm

Venue

:

This CPD event will be conducted in the form of webinar via Zoom.

(An event reminder with Zoom Webinar ID will be provided at around a week before the event.)

Capacity

:
450

Credits

:

Fee

:

Free of Charge

(

HKGBC Members

)
HK$50.00 (

HKGBC Non-Members

)

Contact Person

:
Ms Wing CHOW

Contact Phone

:
39948853

Contact Email

:
eventregis@hkgbc.org.hk

Programme

:

| | |
| --- | --- |
| 5:00 pm - 5:50 pm | Talk by the Speaker |
| 5:50 pm - 6:00 pm | Q&A Session |

Language

:
Cantonese, with English Presentation Materials
Enjoy Member Price with Your BEAM Pro/ BEAM Affiliate Credential Now!
IMPORTANT NOTES:
For BEAM Pro / BEAM Affiliate: Once you entered the valid BEAM Pro / BEAM Affiliate number during registration, member price will be entitled. Please register by clicking "Register (for BEAM Pro / BEAM Affiliate or non-member)".

Seats are available on a first-come-first-served basis. Upon submission through this Online Registration Form, a seat is reserved for you.




Please settle the fee before the event commences. At around a week before the event, email reminders of the event with the Zoom Webinar ID will be sent out to those who have successfully paid.




The URL to join the webinar is unique to the email account that you have registered with. Please do not forward the link to other email accounts.



No Show / Cancellation

– Cancellation must be made by email to

eventregis@hkgbc.org.hk

on or before 19 January 2022 12:00 noon

. Please quote your registration number in the email. There is

NO refund on absence from the event and cancellation made after the deadline.


Certificate of attendance will be issued by email around a week after the event.




The CPD hour(s) will be automatically uploaded to attendees' BEAM Pro / BEAM Affiliate Individual Account around a week after the event.



Limited seats. First come, first served.