29 Nov 2021
Exhibition of Advancing Net Zero (ANZ) Ideas Competition (29 Nov-17 Dec 2021)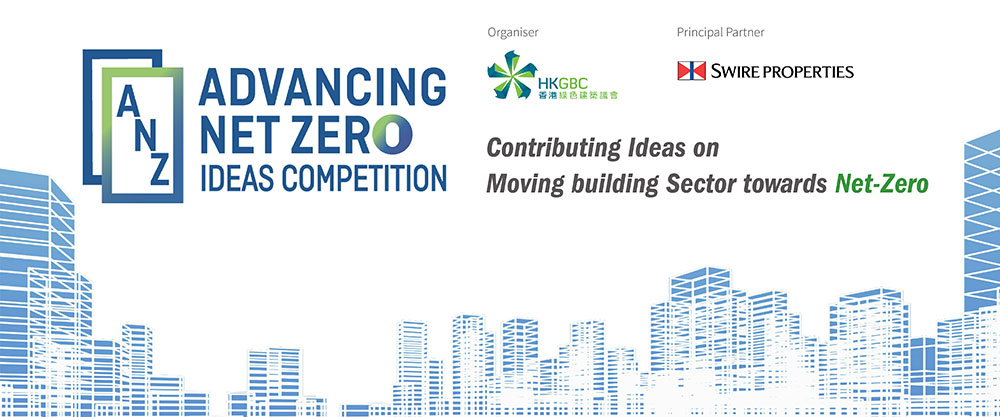 The Hong Kong Green Building Council (HKGBC), dedicated to transforming the city into a greener built environment, proudly launches the first "Advancing Net Zero" Ideas Competition in Hong Kong along with Swire Properties as the Principal Partner. The project aims to advocate the World Green Building Council's global project of "Advancing Net Zero" (ANZ) and the Hong Kong Government's environmental target to achieve carbon neutrality by 2050. The Competition invites international industry stakeholders, designers, academia, and technology experts to contribute ideas on how to move Hong Kong's building sector towards carbon neutrality – a net-zero position - for a sustainable future.

With the enthusiastic support and participation from the industry, the Competition has concluded with great success and all Winners would be announced at the Award Presentation Ceremony would be held on 26 November 2021 (Friday). The net zero solutions proposed by the Winners and Finalists are definitely thought-provoking and worth sharing wide and far. Therefore, a series of exhibition will be held with the first stop at the Lincoln Bridge in Quarry Bay from 29 November to 17 December 2021.

Don't miss the chance to gain valuable insight from Winners!

* An Opening Ceremony of the Exhibition will be held on 29 Nov 2021 at the Blueprint of Taikoo Place, representatives of our Principle Partner, Supporting Partners and Supporting Organisations are invited to join us.

Event Detail

Event Name

:
Exhibition of Advancing Net Zero (ANZ) Ideas Competition (29 Nov-17 Dec 2021)

Presented By

:
-

Date

:
29 Nov 2021

Venue

:

Exhibition: Lincoln Bridge - between PCCW Tower and Lincoln House, Taikoo Place, 979 King's Road, Quarry Bay

Contact Person

:
Ms Norazita YEUNG

Contact Phone

:
39948862

Contact Email

:
anzideascompetition@hkgbc.org.hk

Website

:
https://anzideascompetition.hkgbc.org.hk/