09 Dec 2021
Hong Kong Green Shop Alliance Award Presentation Ceremony 2021 [By invitation]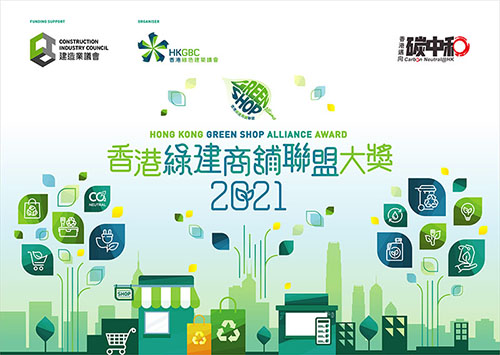 Organised by Hong Kong Green Building Council (HKGBC), the Hong Kong Green Shop Alliance Award Presentation Ceremony 2021 would be held in Hong Kong on 9 December 2021 (Thursday) with Mr TSE Chin-wan, BBS, JP, Under Secretary for the Environment, Hong Kong Special Administrative Region as the Guest of Honour.

To promote the collaborative effort between shopping malls and shops on green shopping environments and measures, the Hong Kong Green Shop Alliance Award (HKGSA Award), the-first-of-its-kind Award in town, was established in 2019 to recognise the environmental achievements of shopping malls and shops. Through the sharing of various environmental cases, participants are able to exchange ideas and develop the best practices for the industries.

The HKGSA Award 2021 has received tremendous response. To recognise awardees' efforts in fostering green shopping environment, the HKGSA Award Presentation Ceremony 2021 will be held. All awardees are welcome to join. For more details, please click HERE.
Event Detail

Event Name

:
Hong Kong Green Shop Alliance Award Presentation Ceremony 2021 [By invitation]

Presented By

:
-

Date

:
09 Dec 2021

Time

:
3:00pm - 5:00pm

Venue

:

Multi-Purpose Hall, CIC-ZCP (Zero Carbon Park)
8 Sheung Yuet Road, Kowloon Bay, Kowloon, Hong Kong

Contact Phone

:
39948835

Contact Email

:
HKGSA@hkgbc.org.hk

Website

:
https://hkgsa.hkgbc.org.hk/textdisplay.php?serial=55