01 Sep 2021
CPD Webinar - Eco-friendly and Smart Surface Coating to Cool Buildings without Consuming Energy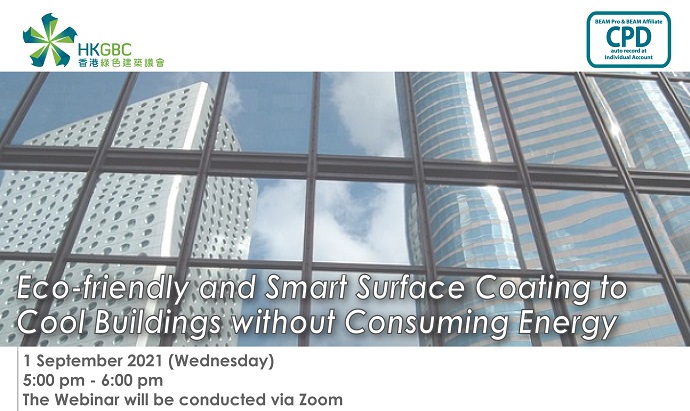 The webinar will be available at HKGBC CPD Online Training Portal (https://onlinecpdtraining.hkgbc.org.hk/) later after the event.
Please stay tuned.
This webinar is organised by the Hong Kong Green Building Council.
Buildings account for 40% of the world's primary energy consumption and are responsible for about one-third of global CO2 emissions. One of the major causes of building energy consumption in a subtropical climate like Hong Kong is space cooling during hot days, which is required for human comfort and health.
The building envelope plays a vital role in the durability and thermal performance of reinforced concrete (RC) buildings and significantly influences the service life, the indoor living environment, and the energy consumption of the whole building. Surface coating, as a most cost-effective means, can isolate the building envelope from various external hostile environments such as water, UV radiations, carbon dioxide, chlorides that challenge the building's durability. More importantly, the surface coating can also be functionised to reduce the thermal gradient between the indoor and outdoor environments of the building envelope, so that energy needed to maintain human comfort in the building can be significantly reduced.
This seminar is concerned with emerging technology, sub-ambient daytime radiative cooling (SDRC), that may provide promising electricity- and cryogen-free pathway for global building energy efficiency (Fig.1). Widespread use of such technology may help mitigate the urban heat island and even global warming. The fundamental principles, materials, recent developments, challenges and opportunities of the SDRC technology are discussed in the seminar. The laboratory and field exposure performance of the SDRC coating is demonstrated using an eco-friendly, smart and highly scalable coating developed recently in the speaker's group.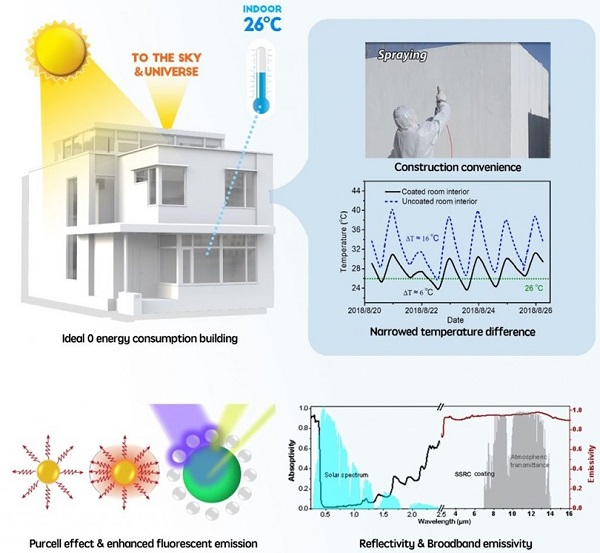 Fig.1 Illustration of the SDRC technology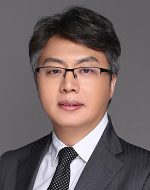 Speaker: Prof. Jian-Guo DAI, Professor, The Hong Kong Polytechnic University
A full professor and Associate Head at the Department of Civil and Environmental Engineering, The Hong Kong Polytechnic University, Dr DAI obtained his PhD from Hokkaido University in Social Infrastructure Engineering in 2003 and he joined The Hong Kong Polytechnic University in 2008 after some years of research scientist experience in the Life Cycle Management Research Centre, Port and Airport Research Institute, Japan. Dr DAI has had more than 25 years of research and industry experience in the field of "Innovative Civil Engineering Materials and Structures" in mainland China, Japan and Hong Kong. He is the recipient of many academic awards including the "Best Basic Research Paper Award" of Journal of Composites for Construction from American Society of Civil Engineers, "Distinguished Young Scholar Award" from the Association of FRP for Construction, China Society of Civil Engineers and "Structural Excellence Award R&D Grand Award" from HKIE. He has published more than 300 technical papers (including some 140 SCI papers) and was in the "World's Top 2% Scientist-Stanford University Releases List (2020)" (Career) in the "Civil Engineering" discipline. Dr Dai has been serving actively many international and regional organizations such as ISO, International Institution of FRP in Construction (IIFC), Asian Concrete Federation (ACF) and Japan Concrete Institute (JCI). He successfully chaired the "8th International Conference on Water Repellent Treatment and Protective Surface Technology for Building Materials" in 2017 in Hong Kong, and very recently his group has invented an eco-friendly multiple functional polymeric coating with waterproofing, self-cleaning and sub-ambient cooling features for improving the durability and reducing the space cooling needs of buildings. This coating development has received widespread attention from the public and was highlighted as "A Smarter Radiative Cooler" by the journal "Science" in its "Editor's Choice".
Event Detail

Event Name

:
CPD Webinar - Eco-friendly and Smart Surface Coating to Cool Buildings without Consuming Energy

Presented By

:

Prof. Jian-Guo DAI

Date

:
01 Sep 2021

Time

:
5:00 pm - 6:00 pm

Venue

:

This CPD event will be conducted in the form of webinar via Zoom.

(An event reminder with Zoom Webinar ID will be provided at around a week before the event.)

Capacity

:
450

Credits

:

Fee

:

Free of Charge

(

HKGBC Members

)
HK$50.00 (

Non-HKGBC members

)

Contact Person

:
Mr Elliott TAM

Contact Phone

:
39948890

Contact Email

:
eventregis@hkgbc.org.hk

Programme

:

| | |
| --- | --- |
| 5:00 pm - 5:50 pm | CPD Webinar - Eco-friendly and Smart Surface Coating to Cool Buildings without Consuming Energy |
| 5:50 pm - 6:00 pm | Q&A Session |

Language

:
English
Enjoy Member Price with Your BEAM Pro/ BEAM Affiliate Credential Now!
IMPORTANT NOTES:
For BEAM Pro / BEAM Affiliate: Once you entered the valid BEAM Pro / BEAM Affiliate number during registration, member price will be entitled. Please register by clicking "Register (for BEAM Pro / BEAM Affiliate or non-member)".

Seats are available on a first-come-first-served basis. Upon submission through this Online Registration Form, a seat is reserved for you.




Please settle the fee before the event commences. At around a week before the event, email reminders of the event with the Zoom Webinar ID will be sent out to those who have successfully paid.




The URL to join the webinar is unique to the email account that you have registered with. Please do not forward the link to other email accounts.



No Show / Cancellation

– Cancellation must be made by email to

eventregis@hkgbc.org.hk

on or before 31 August 2021 12:00 noon

. Please quote your registration number in the email. There is

NO refund on absence from the event and cancellation made after the deadline.


Certificate of attendance will be issued by email around a week after the event.




The CPD hour(s) will be automatically uploaded to attendees' BEAM Pro / BEAM Affiliate Individual Account around a week after the event.



Limited seats. First come, first served.