24 Jan 2019
CPD Event - Technical Talk on Mandatory WELS Stage 1 and WELS for Water Closets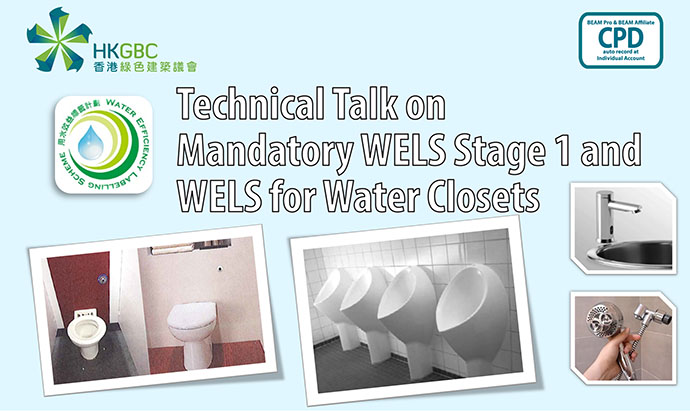 This event is organised by the Hong Kong Green Building Council (HKGBC).
(1)

Mandatory WELS Stage 1



The voluntary Water Efficiency Labelling Scheme (WELS) was launched in 2009. The scheme currently covers 6 types of plumbing fixtures and water-consuming devices under a grading system. In 2017, the WSD launched the requirements for mandatory use of devices under the WELS, meaning that for plumbing works for kitchens of domestic premises as well as for bathrooms and toilets of all premises that involve installation of showers for bathing, water taps and urinal flushing valves, models of devices registered under the WELS should be used. There was a one-year grace period. Starting from 1 February 2018, the Water Authority only accepts plumbing works applications that comply with the above requirements.
Speaker:

Mr Kevin H N LEE, Engineer, Water Supplies Department, The Government of Hong Kong Special Administrative Region
(2)

WELS for Water Closets
The voluntary WELS in Hong Kong has been implemented in phases. The new group of products for implementation of WELS is Water Closets. Registration to the scheme commenced on 25 May 2018. This talk is a brief introduction on the grading criteria and technical performance requirements of the scheme.
Speaker:

Dr Vinci LEE, Senior Consultant, Hong Kong Productivity Council
Event Detail

Event Name

:
CPD Event - Technical Talk on Mandatory WELS Stage 1 and WELS for Water Closets

Date

:
24 Jan 2019

Time

:
7:00pm - 8:30pm (Registration starts at 6:30pm)

Venue

:
Auditorium, G/F, Jockey Club Environmental Building, 77 Tat Chee Avenue, Kowloon Tong, Kowloon

Capacity

:
100

Credits

:

Fee

:
HK$150.00 (

HKGBC Members

)
HK$225.00 (

HKGBC Non-Members

)

Contact Email

:
enquiry@hkgbc.org.hk

Programme

:

Programme

| Time | Programme |
| --- | --- |
| 6:30pm – 7:00pm | Registration (with Light Refreshment) |
| 7:00pm – 8:15pm | Presentation |
| 8:15pm – 8:30pm | Q&A |

Language

:
English