04 Jun 2021
CPD Webinar - A Revolutionary Design for Ventilation in the Built Environment - Air Induction Unit (AIU)
The webinar will be available at HKGBC CPD Online Training Portal (https://onlinecpdtraining.hkgbc.org.hk/) later after the event.
Please stay tuned.

This webinar is organised by the Hong Kong Green Building Council.

Building, energy, comfort and the environment are key issues for mankind. In hot and humid regions like Hong Kong and Singapore, mechanical ventilation is a common strategy to remove heat and moisture from non-air-conditioned spaces. Given the intensive development of green building technology over the past two decades, people nowadays expect the design of a comfortable built environment with energy-efficient measures.
The Air Induction Unit (AIU), a ventilating device, has therefore been invented to enhance thermal comfort of a space by inducing a large volume of air moving gently. Additionally, the AIU enhances the quality of the built environment due to its streamlined design and quiet operation. The design of the AIU also simplifies maintenance requirements and its performance effectiveness reduces overall building energy use which consequently reduces the negative impact to the environment.
AIU has received numerous awards including the CIC Construction Innovation Awards and was added to the CIC Innovation product list. In this webinar, we will look at the development of the AIU and its working principles, identify potential applications and evaluate its performance against traditional wallmounted fans.
Speaker: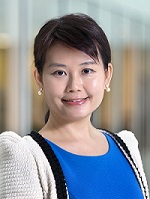 Ms Teri TAN, Associate, Sustainability, Arup
An Associate of Sustainability at Arup, Teri Tan is a creative multidisciplinary sustainability consultant with 14 years of experience in engineering, architecture and strategic planning consultancies in Hong Kong, Singapore and Melbourne. As Arup's East Asia Sustainable Skills Network Manager, Teri is passionate about driving sustainable innovation and climate services to meet the demands of climate change. With a diverse portfolio of infrastructure, sports, residential, commercial, educational, and arts and cultural projects across Australasia under her belt, she has taken projects from masterplans through to operations.
Teri's expertise is in design integration of sustainable features, passive design, sustainable development and dicarbon isation. Internationally, she has developed / implemented successful hybrid ventilation solutions at Star Vista, NUS University Town, SMU School of Law, and HKUST Nansha Campus.
Event Detail

Event Name

:
CPD Webinar - A Revolutionary Design for Ventilation in the Built Environment - Air Induction Unit (AIU)

Presented By

:

Ms Teri TAN

Date

:
04 Jun 2021

Time

:
5:00 pm - 6:00 pm

Venue

:

This CPD event will be conducted in the form of webinar via Zoom.

(An event reminder with Zoom Webinar ID will be provided at around a week before the event.)

Capacity

:
450

Credits

:

Fee

:

Free of Charge

(

HKGBC Members

)
HK$50.00 (

HKGBC Non-Members

)

Contact Person

:
Mr Elliott TAM

Contact Phone

:
39948890

Contact Email

:
eventregis@hkgbc.org.hk

Programme

:

5:00 pm -

5:50 pm

CPD Webinar - A Revolutionary Design for Ventilation in the Built Environment - Air Induction Unit (AIU)


5:50 pm -

6:00 pm

Q&A Session

Language

:
English
Enjoy Member Price with Your BEAM Pro/ BEAM Affiliate Credential Now!
IMPORTANT NOTES:
For BEAM Pro / BEAM Affiliate: Once you entered the valid BEAM Pro / BEAM Affiliate number during registration, member price will be entitled. Please register by clicking "Register (for BEAM Pro / BEAM Affiliate or non-member)".

Seats are available on a first-come-first-served basis. Upon submission through this Online Registration Form, a seat is reserved for you.




Please settle the fee before the event commences. At around a week before the event, email reminders of the event with the Zoom Webinar ID will be sent out to those who have successfully paid.




The URL to join the webinar is unique to the email account that you have registered with. Please do not forward the link to other email accounts.



No Show / Cancellation

– Cancellation must be made by email to

eventregis@hkgbc.org.hk

on or before 3 June 2021 12:00noon

. Please quote your registration number in the email. There is

NO refund on absence from the event and cancellation made after the deadline.


Certificate of attendance will be issued by email at around a week after the event.




The CPD hour(s) will be automatically uploaded to attendees' BEAM Pro / BEAM Affiliate Individual Account around a week after the event.



Limited seats. First come, first served.