26 Jan 2021
CPD Webinar - Sustainable Timber Engineering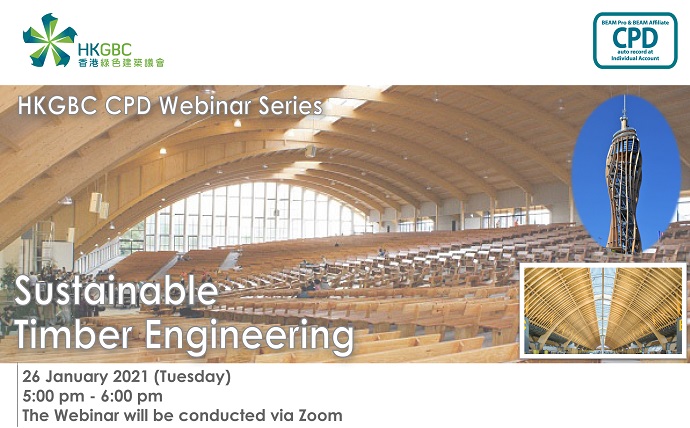 The webinar will be available at HKGBC CPD Online Training Portal (https://onlinecpdtraining.hkgbc.org.hk/index.php) later after the event. Please stay tuned.

This webinar is organised by the Hong Kong Green Building Council.

Rubner Holzbau is a sustainable timber engineering company. They specialise in glued laminated timber (glulam) and are located in Europe but have done projects in Singapore and the Philippines. Their first project in Asia - Mactan Cebu International Airport (MCIA) in the Philippines, has won several awards. The webinar aims to address the following:
1. Why timber is the construction material of the 21st Century
2. Glued Laminated Timber (glulam)
Production
Code of Compliance
Considerations: fire resistance, termites and tropical climate
3. Highlighted projects - There will be a brief overview of the technical/design requirements and construction process.
Speakers: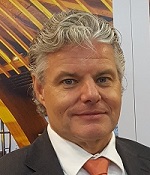 Mr Anton WANAS
Anton is an Authorised Officer and Professional Engineer at Rubner Holzbau in Austria. He has over 30 years' experience in the construction of engineered glulam timber structures. Anton is responsible for the design and the overall project management of projects in Europe and Asia. The first two major projects in Asia were Mactan Cebu and Clark International Airport, following this there has been a further 15 glulam projects in Singapore.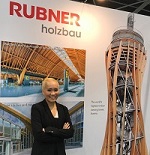 Ms Phyllis CHONG
Phyllis is the Business Development Manager for Rubner Holzbau and is responsible for expanding their market in sustainable timber engineering – glulam in Asia namely in Hong Kong, Taiwan, Malaysia and Indonesia. She focuses on introducing the use of glued laminated timber as a renewable and sustainable building material in both the private and public sectors. Prior to this, Phyllis was a Chartered Quantity Surveyor with more than 15 years' experience and has worked in Singapore, Australia and Hong Kong.
Event Detail

Event Name

:
CPD Webinar - Sustainable Timber Engineering

Presented By

:

Mr Anton WANAS and Ms Phyllis CHONG

Date

:
26 Jan 2021

Time

:
5:00 pm - 6:00 pm

Venue

:

This CPD event will be conducted in the form of webinar via Zoom.

(An event reminder with Zoom Webinar ID will be provided at around a week before the event.)

Capacity

:
450

Credits

:

Fee

:
HK$50.00 (

HKGBC Members

)
HK$75.00 (

HKGBC Non-Members

)

Contact Person

:
Mr Elliott TAM

Contact Phone

:
39948890

Contact Email

:
eventregis@hkgbc.org.hk

Programme

:

5:00 pm -

5:50 pm

Sustainable Timber Engineering


5:50 pm -

6:00 pm

Q&A Session

Language

:
English
IMPORTANT NOTES:
Seats are available on a first-come-first-served basis. Upon submission through this Online Registration Form, a seat is reserved for you.




Please settle the fee before the event commences. At around a week before the event, email reminders of the event with the Zoom Webinar ID will be sent out to those who have successfully paid.




The URL to join the webinar is unique to the email account that you have registered with. Please do not forward the link to other email accounts.



No Show / Cancellation

– Cancellation must be made by email to

eventregis@hkgbc.org.hk

on or before 25 Jan 2021 12:00noon

. Please quote your registration number in the email. There is

NO refund on absence from the event and cancellation made after the deadline.


Certificate of attendance will be issued by email at around a week after the event.




The CPD hour(s) will be automatically uploaded to attendees' BEAM Pro / BEAM Affiliate Individual Account around a week after the event.



Limited seats. First come, first served.