30 Nov 2020
CPD Online Training - Cream of BEAM Plus 2020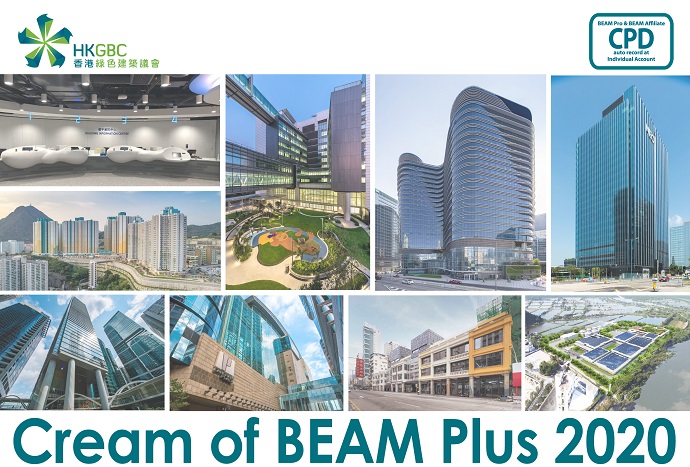 The webinar is available at HKGBC CPD Online Training Portal (https://onlinecpdtraining.hkgbc.org.hk/index.php).

This online training is organised by the Hong Kong Green Building Council.

By looking at the assessment results of the latest BEAM Plus projects, this training video is a continuation of the effort to disseminate the latest performance of Hong Kong's green buildings.
The HKGBC Secretariat will share with the audience:
Credit achievement rate analysis and trends
High-performance and low-performance areas
Innovations and performance enhancements
Contest case summary analysis and key learnings
Case sharing of selected exemplary projects
The training video is divided into two sessions:
Session (1) - BEAM Plus New Buildings (NB);
Session (2) – BEAM Plus Existing Buildings (EB), Interiors (BI) and Neighbourhood (ND).
For Session (1) on NB, the Secretariat has included more analysis on the performance of projects reaching Final Assessment (FA) stage. In particular, the training will look at areas that are not achieved in FA, especially O&M facilities and clothes drying facilities. It has also included a discussion on those items with low submission or achievement rates, such as off-site precast and natural ventilation in residential flats, with a view to providing insight for future designers.
For Session (2) on EB, BI and ND, the Secretariat has included the assessment results of the first batch of buildings adopting the Portfolio Assessment mechanism. Commonly contested areas in the three rating schemes are discussed in detail. The speaker has also included a brief discussion on green lease, green procurement and EV charging facilities, with a view to giving hints to existing building operators.
Speaker: Ir Eddy LAU, Head of Green Labelling, Hong Kong Green Building Council

Ir Dr Eddy LAU, FHKIE, R.P.E.(BSS), is the Head of Green Labelling at HKGBC, responsible for overseeing the BEAM Plus green building certification programme.
Event Detail

Event Name

:
CPD Online Training - Cream of BEAM Plus 2020

Presented By

:

Ir Eddy LAU

Date

:
30 Nov 2020

Venue

:

HKGBC CPD Online Training Portal (https://onlinecpdtraining.hkgbc.org.hk/index.php)

Credits

:

Contact Person

:
Mr Elliott TAM

Contact Phone

:
39948890

Contact Email

:
eventregis@hkgbc.org.hk

Language

:
Both Cantonese and English are available (supplemented with English presentation materials)