07 Aug 2020
CPD Webinar - Sharing of Best Practices in Construction - InnoCell and Queen's Hill Site 1 Phase 1 and Portion of Phase 6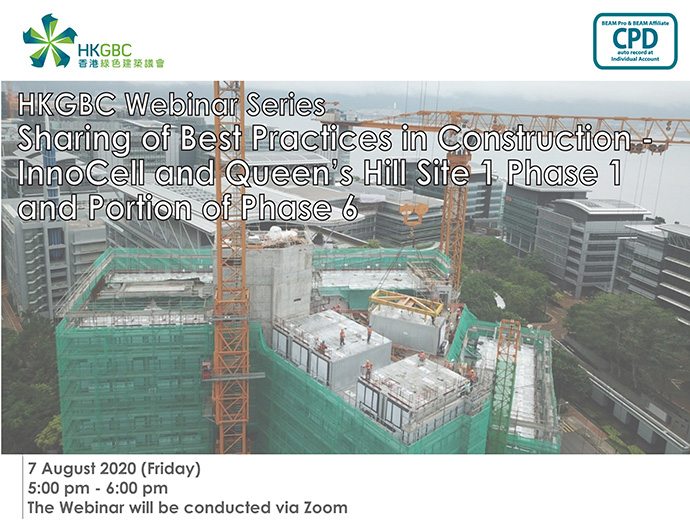 (Click here to see the event flyer)
The event is full house now. Thanks for your support!
The webinar will be available at HKGBC CPD Online Training Portal (https://onlinecpdtraining.hkgbc.org.hk/index.php) later after the event. Please stay tuned.

This webinar is organised by the Hong Kong Green Building Council.
Environmental management of construction sites is one important element in green building. In this webinar, the environmental engineers of two award-winning projects will share with the audience how best practices in construction can lead to good outcomes in environmental protection. These two projects are:
(i) InnoCell is a 17-storey building project, providing 418 residential units of affordable accommodation for talent and incubates from Hong Kong Science and Technology Park. It is one of the pilot projects adopting Modular Integrated Construction (MiC) systems, and is expected to be completed by the end of 2020. MiC approach shows advantages in off-site construction for better quality and environmental controls. The construction period is also significantly reduced and the environmental nuisances to the neighborhood are minimized correspondingly. The project has obtained the Bronze Award (Construction Industry) of HK Awards for Environmental Excellence (HKAEE) 2019.
(ii) Public Rental Housing Development at Queen's Hill Site 1 Phase 1 and Portion of Phase 6 comprises the construction of 5 domestic blocks providing 6371 flats, one 4-storey retail facilities, semi-basement carpark, pedestrian footbridge and an on-site concrete batching plant. The project team has been making significant efforts in designing, utilizing BIM and prefabrication in achieving material preservation and waste recycling. Through adopting innovative inventions and green construction methods, the project team builds quality living environment with minimal nuisance to the neighborhood. The project has obtained the Silver Award (Construction Industry) of HKAEE 2019.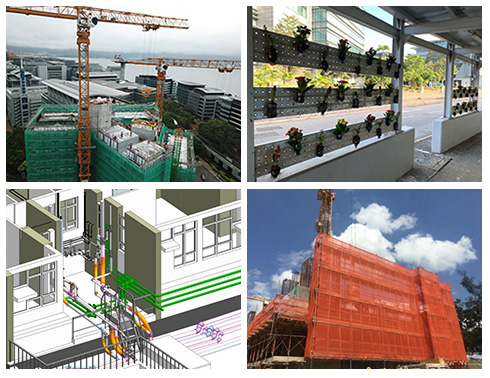 Event Detail

Event Name

:
CPD Webinar - Sharing of Best Practices in Construction - InnoCell and Queen's Hill Site 1 Phase 1 and Portion of Phase 6

Presented By

:

Mr Ken Ho, Mr Christopher Leung and Ms Elzik Tsang

Date

:
07 Aug 2020

Time

:
5:00 pm - 6:00 pm

Venue

:

This CPD event will be conducted in the form of webinar via Zoom.

(An event reminder with Zoom Webinar ID will be provided at around a week before the event.)

Capacity

:
450

Credits

:

Fee

:

Free of Charge

(

HKGBC Members

)


Free of Charge

(

HKGBC Non-Members

)

Contact Person

:
Mr Elliott TAM

Contact Phone

:
39948890

Contact Email

:
eventregis@hkgbc.org.hk

Programme

:

5:00 pm -

5:50 pm

Sharing of Best Practices in Construction - InnoCell and Queen's Hill Site 1 Phase 1 and Portion of Phase 6


5:50 pm -

6:00 pm

Q&A Session

Language

:
Cantonese (supplemented with English presentation materials)