17 Jul 2020
[Postponed] CPD Event - Technical Visit to MiC Project at Hong Kong Science Park - Innocell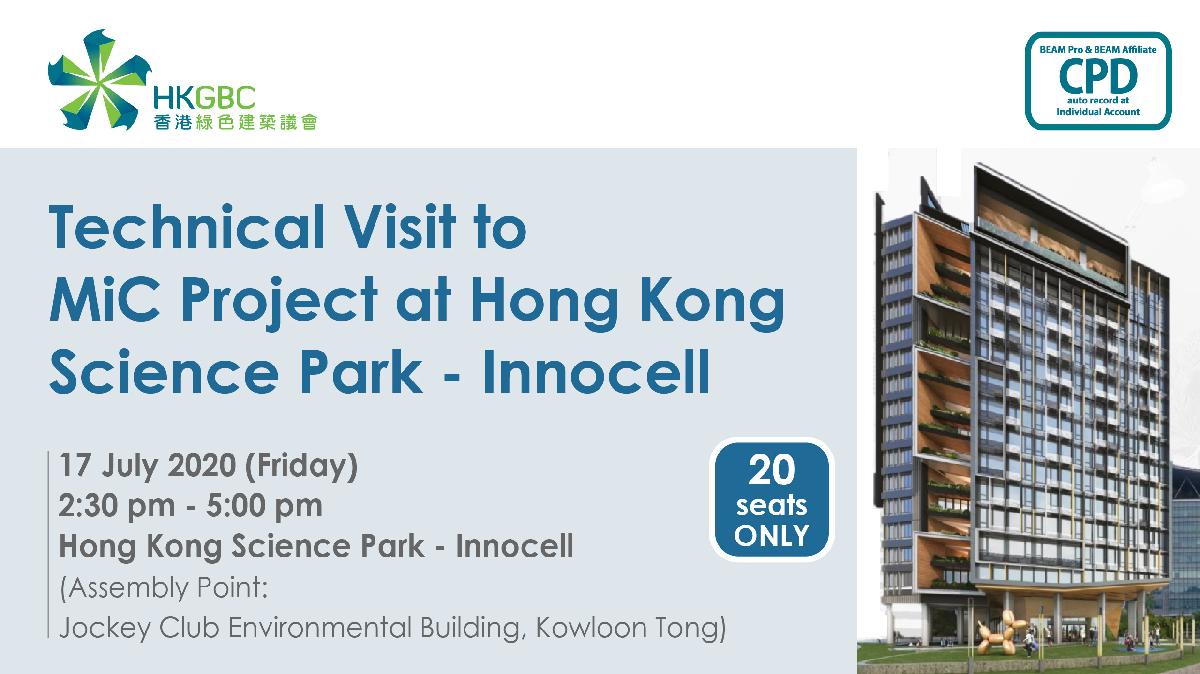 (Click here to see the event flyer)
In light of the current situation relating to the COVID-19, the CPD event is postponed. Please stay tuned for further announcements.

This event is organised by the Hong Kong Green Building Council.
Located in Hong Kong Science Park, InnoCell is a pilot project of using Modular Integrated Construction (MiC) in Hong Kong. It will provide a minimum of 500 bed spaces. Room types include Standard Studio, Sleepbox, Co-living and Family Unit (Recreational and shared living/working space integrated with residential units) with supporting ancillary facilities. It will become a smart living and co-creation community for tech talents. The 17-storey building sits on a 32,000-sq ft site adjacent to the southeast entrance of Hong Kong Science Park. The project will be assembled via 418 modules. Due to the innovation and environmental sustainability performance, InnoCell has received the "Rethinking The Future Awards 2020"- Second Award.

Event Detail

Event Name

:
[Postponed] CPD Event - Technical Visit to MiC Project at Hong Kong Science Park - Innocell

Presented By

:

Representatives from Hong Kong Science Park and Hip Hing Construction

Date

:
17 Jul 2020

Time

:
2:30 pm - 5:00 pm

Venue

:

Hong Kong Science Park - Innocell

(Assembly Point: G/F, Jockey Club Environmental Building, 77 Tat Chee Avenue, Kowloon Tong; a coach will be arranged to the project site)


Capacity

:
20

Credits

:

Fee

:
HK$100.00 (

HKGBC Members

)
HK$150.00 (

HKGBC Non-Members

)

Contact Person

:
Mr Elliott TAM

Contact Phone

:
39948890

Contact Email

:
eventregis@hkgbc.org.hk

Programme

:

2:15pm - 2:30pm

Registration and Assembly at G/F Jockey Club Environmental Building, 77 Tat Chee Avenue, Kowloon Tong


2:30am - 3:00pm

Transportation from Kowloon Tong to Hong Kong Science Park




3:00pm - 4:30pm

Presentation and Site visit

4:30pm - 5:00pm

Transportation from Hong Kong Science Park to Kowloon Tong and Dismissal




Language

:
Cantonese
Event Precautionary Measures
All participants are required to wear a face mask during the visit.
Body temperature measurement will be conducted before the visit.

At assembly, you will have to fill in the Health Declaration Form that you

have NOT had any symptoms of fever, cough, shortness of breath or other flu-like symptoms in the past 14 days; you have NOT travelled outside Hong Kong in the past 14 days; AND you have NOT been in close contact with anyone with a suspected, probable or confirmed case of COVID-19 in the past 14 days.
Important Notes
Participants should pay attention to the safety risks of construction sites and they shall follow the safety precautions as reminded by the project management staff on site.
Participants are encouraged to dress light and casual in this visit and to wear appropriate footwear suitable for construction sites.
Due to conditions of insurance, participants of this event must be aged 18 to 65 as of year 2020.
Participants shall note that neither HKGBC nor the parties concerned would accept liability in connection with this event.
The event will be cancelled when the Typhoon Signal No.8 or above, or Black Rainstorm Signal is hoisted 3 hours before the event commences.