04 May 2020
CPD Webinar - Healthy Buildings for Healthier People: a Data-driven Approach
(Click here to see the event flyer)
The event is full house now. Thanks for your support!
The webinar will be available at HKGBC CPD Online Training Portal (https://onlinecpdtraining.hkgbc.org.hk/index.php) later after the event. Please stay tuned.

This webinar is organised by the Hong Kong Green Building Council.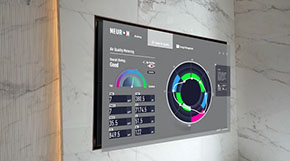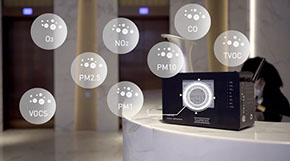 How do we know if our building is healthy? How can we make sure they continue to improve our comfort and enhance, not compromise, our wellness and wellbeing?
The focus of sustainable buildings has shifted from energy and operation efficiency to the wellbeing of people working and living in them. The recent Covid-19 outbreak has further sharpened this focus and brought immerse attention to the role buildings can play to prevent/reduce potential health risks and enhance comfort and wellbeing of occupants.
The webinar will discuss the critical role of built environment and the steps to re-design our buildings in creating a healthy workplace. The speaker will talk about how big data can be used as a 'health audit' for our buildings. By continuously monitoring and analysing health-focused data such as indoor air quality as well as thermal, visual and acoustic comfort of occupants, we can make tailored recommendations to reduce potential health risks and improve the overall environment for occupants' health and wellbeing.
Speaker: Ir Dr Tony Lam, CEng MHKIE WELL Faculty LEED AP BEAM Pro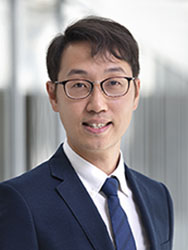 Ir Dr Tony Lam is an Associate Director of Sustainability at Arup. As a building physics specialist, he has extensive experience in tackling environmental impacts on the built environment, particularly in designing low carbon, wellness and sustainable building development. He is a green design expert and has completed a number of significant developments in East Asia, including K11 Atelier King's Road, West Kowloon Cultural District, HKHA public housing estates, Shenzhen Prince Bay, Hualian Residence in Taiwan and South Beach in Singapore.
Tony is a WELL Faculty member in Asia and has delivered the first two WELL Platinum buildings in Hong Kong. He was awarded the CIC Young Innovator Award in 2017.
Event Detail

Event Name

:
CPD Webinar - Healthy Buildings for Healthier People: a Data-driven Approach

Presented By

:

Ir Dr Tony LAM, Arup

Date

:
04 May 2020

Time

:
5:00 pm - 6:00 pm

Venue

:

This CPD event will be conducted in the form of webinar via Zoom.

(An event reminder with Zoom Webinar ID will be provided at around a week before the event.)

Capacity

:
400

Credits

:

Fee

:

Free of Charge

(

HKGBC Members

)


Free of Charge

(

HKGBC Non-Members

)

Contact Person

:
Mr Elliott TAM

Contact Phone

:
39948890

Contact Email

:
eventregis@hkgbc.org.hk

Programme

:

5:00 pm -

5:50 pm

Healthy Buildings for Healthier People: a Data-driven Approach


5:50 pm -

6:00 pm

Q&A Session

Language

:
English