24 Apr 2020
CPD Webinar - Better Homes for People – Going Beyond COVID-19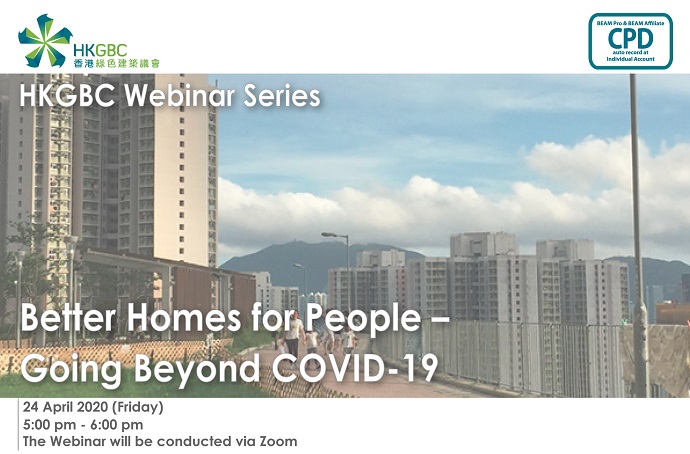 (Click here to see the event flyer)
The event is full house now. Thanks for your support!
The webinar will be available at HKGBC CPD Online Training Portal (https://onlinecpdtraining.hkgbc.org.hk/index.php) soon. Please stay tuned.

This webinar is organised by the Hong Kong Green Building Council.

In the previous webinar, two topics related to COVID-19, namely air filtration and drainage system design, were covered. In this webinar, Ir Dr Eddy LAU will extend to a wider area by addressing common building design issues like corridor ventilation, the use of re-entrants, general air treatment, circadian and flexible dwellings, etc. He will explore why one BEAM Plus credit – IEQ12 Ventilation in Common Areas has not been widely adopted in residential developments, propose alternative design solution, and re-examine the use of re-entrants for providing window openings. There is a risk of pollutant transmission by propelled airflow between flats but appropriate design measures can be taken to mitigate this. The speaker will also examine other issues like lift design, flushing water and air treatment and measures to prevent surficial virus transmission. Last but not least, built environment designs to promote human health and facilitate disease fight will be briefly summarised with reference to circadian and BEAM Plus principles. The webinar is of particular interest to those who are concerned about residential building design.
Speaker: Ir Dr Eddy LAU, Head of Green Labelling, Hong Kong Green Building Council
Ir Dr Eddy Lau, FHKIE, R.P.E.(BSS), is the Head of Green Labelling at HKGBC, responsible for overseeing the BEAM Plus green building certification programme. Before that, he has worked in the building services industry for 17 years. He has taught at HKU SPACE for post-graduate courses on indoor environment, material and water use. He has a general interest in green building and has contributed more than 30 journal articles since 1995. In particular, he is the author of the feature article "Healthy building design in response to COVID-19 outbreak" in HKIE Journal – April 2020.
Event Detail

Event Name

:
CPD Webinar - Better Homes for People – Going Beyond COVID-19

Presented By

:

Ir Dr Eddy LAU

Date

:
24 Apr 2020

Time

:
5:00 pm - 6:00 pm

Venue

:

This CPD event will be conducted in the form of webinar via Zoom.

(An event reminder with Zoom Webinar ID will be provided at around a week before the event.)

Capacity

:
70

Credits

:

Fee

:

Free of Charge

(

HKGBC Members

)


Free of Charge

(

HKGBC Non-Members

)

Contact Person

:
Mr Elliott TAM

Contact Phone

:
39948890

Contact Email

:
eventregis@hkgbc.org.hk

Programme

:

5:00 pm -

5:50 pm

Better Homes for People – Going Beyond COVID-19


5:50 pm -

6:00 pm

Q&A Session

Language

:
English