03 Apr 2020
CPD Webinar - Air Filtration and Drainage System Design in Response to COVID-19 Outbreak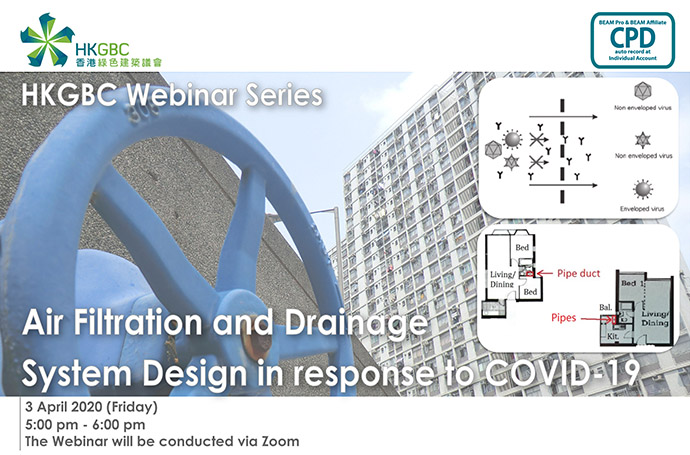 (Click here to see the event flyer)
The event is full house now. Thanks for your support!
The webinar is now available at HKGBC CPD Online Training Portal (https://onlinecpdtraining.hkgbc.org.hk/index.php).
This webinar is organised by the Hong Kong Green Building Council.
Part I – Understanding Aerosol Transmission and Anti-viral Filter against COVID-19
Part I of the webinar will discuss the aerosol transmission of viral diseases, common misunderstanding in this area and risk mitigation measures against indoor aerosol transmission. The speaker will also talk about the difficulties in verifying anti-viral performance of control technologies, and introduce an anti-viral air filter with recent proof of capability to guard against human coronaviruses from virology test. The air filtration technology has been reported recently in local news media (Click here).
Speaker: Dr Roger SZE TO, Chief Technology Officer, Aurabeat Technology Limited
Dr Roger Sze To is a co-founder of a technology company within the Incu-App Programme of Hong Kong Science and Technology Park. Before that, he has worked in the HKUST as a research assistant professor and in various consultancies. He has over 13 years of research experience in IAQ and building environment. His findings have been published in more than 30 research articles. He is the co-inventor of 3 patented technologies related to air purification and indoor environmental quality.
Part II – Revisiting Drainage System Design in view of COVID-19
Part II of the webinar will start with a brief recap of BEAM manual and PNAP revision in floor drain design after SARS in 2003, how these revised practices are being implemented and what may possibly follow when new technologies are emerging. The speaker will then discuss new concerns arising from the Hong Mei and Heng Tai House incidents and possible solutions to facilitate maintenance and reduce inter-floor disease transmission. The webinar would be of particular interest to those who are concerned about drainage system design and pipework location within buildings.
Speaker: Ir Dr Eddy LAU, Head of Green Labelling, Hong Kong Green Building Council
Ir Dr Eddy Lau, FHKIE, R.P.E.(BSS), is the Head of Green Labelling at HKGBC, responsible for overseeing the BEAM Plus green building certification programme. Before that, he has worked in the building services industry for 17 years, covering both design and maintenance. He was a former Fellow of the Chartered Institute of Plumbing and Heating Engineering and author of the article "Drainage System Design – A Time for Review" in HKIE Journal published in June 2003 after SARS.
Event Detail

Event Name

:
CPD Webinar - Air Filtration and Drainage System Design in Response to COVID-19 Outbreak

Presented By

:

Dr Roger SZE TO and Ir Dr Eddy LAU

Date

:
03 Apr 2020

Time

:
5:00 pm - 6:00 pm

Venue

:

This CPD event will be conducted in the form of webinar via Zoom.

(An event reminder with Zoom Webinar ID will be provided at around a week before the event.)

Capacity

:
70

Credits

:

Fee

:

Free of Charge

(

HKGBC Members

)


Free of Charge

(

HKGBC Non-Members

)

Contact Person

:
Mr Elliott TAM

Contact Phone

:
39948890

Contact Email

:
eventregis@hkgbc.org.hk

Programme

:

5:00 pm -

5:30 pm

Part I – Understanding Aerosol Transmission and Anti-viral Filter against COVID-19

5:30 pm -

6:00 pm

Part II – Revisiting Drainage System Design in view of COVID-19

Language

:
English