01 Aug 2020
[Postponed] CPD Event - Technical Visit to On Tai Estate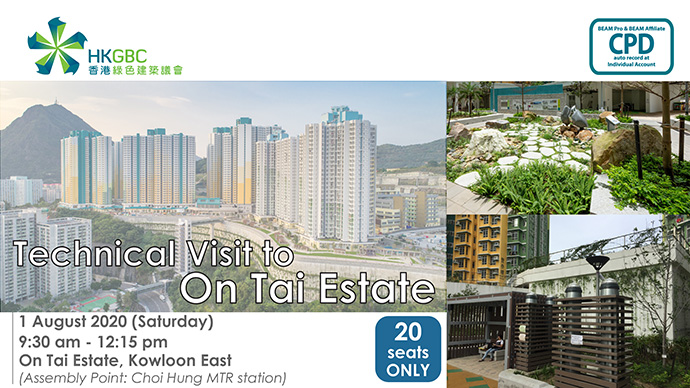 (Click here to see the event flyer)
In light of the current situation relating to the COVID-19, the CPD event is postponed. Please stay tuned for further announcements.
This event is organised by the Hong Kong Green Building Council.
Anderson Road Quarry near East Kowloon was a major source of aggregates for construction in HK since 1950s. The Hong Kong Housing Authority turned part of this dis-used quarry into a public housing estate – On Tai Estate. Drawing from past experiences of developing urban fringes, they engaged the local community right from project inception to understand their needs and aspirations. They also procured the project via a refined Integrated Procurement Approach (IPA), which explored sustainable and innovative ideas an early stage through integration of design and construction.
With the concept of "Sustainable Community for Green and Healthy Living" in mind, the designer set out to create a vehicle-free environment with landscape gardens. Various sustainability features such as high green coverage ratio, zero irrigation system, PV system, free cooling, heat wheel energy recovery and solar light tubes were implemented.
With the complete closure of the quarry, a significant chapter of HK's quarrying history was concluded. The designer of the estate created different showcases to feature HK's geology and celebrate the local hiking culture. These included geology exhibition gallery, geo-heritage plaza with rock garden, a linking trail to the Wilson Trail and the future Quarry Park.
On Tai Estate shows a transformation of a barren quarry to a new green oasis. It reminisces the site's history, celebrates its physical transformation and projects into the future through sustainable project practices. The project has thus won a number of prestige awards such as BEAM Plus NB v1.2 – Final Platinum, CIC Sustainable Construction Award (2018) – Bronze and HKIPM Awards 2019 Sustainable Project - Winner.
Event Detail

Event Name

:
[Postponed] CPD Event - Technical Visit to On Tai Estate

Presented By

:

Representative from Hong Kong Housing Authority

Date

:
01 Aug 2020

Time

:
9:30 am - 12:15 pm

Venue

:

On Tai Estate, Kowloon East

(Assembly Point: Choi Hung MTR station; a coach will be arranged to the project site)

Capacity

:
20

Credits

:

Fee

:
HK$100.00 (

HKGBC Members

)
HK$150.00 (

HKGBC Non-Members

)

Contact Person

:
Mr Elliott TAM

Contact Phone

:
39948890

Contact Email

:
eventregis@hkgbc.org.hk

Programme

:

9:15am - 9:30am

Registration and Assembly at Choi Hung MTR station


9:30am - 10:00am

Transportation from Choi Hung MTR to On Tai Estate




10:00am - 12:00nn

Technical Visit


12:00nn - 12:15pm

Transportation from On Tai Estate to Choi Hung MTR




Language

:
Cantonese
Event Precautionary Measures
All participants are required to wear a face mask during the visit.
Body temperature measurement will be conducted before the visit.

At assembly, you will have to fill in the Health Declaration Form that you

have NOT had any symptoms of fever, cough, shortness of breath or other flu-like symptoms in the past 14 days; you have NOT travelled outside Hong Kong in the past 14 days; AND you have NOT been in close contact with anyone with a suspected, probable or confirmed case of COVID-19 in the past 14 days.
Important Notes
Participants are encouraged to dress light and casual in this visit.
Due to conditions of insurance, participants of this event must be aged 18 to 65 as of year 2020.
Participants shall note that neither HKGBC nor the parties concerned would accept liability in connection with this event.
The event will be cancelled when the Typhoon Signal No.8 or above, or Black Rainstorm Signal is hoisted 3 hours before the event commences.