01 Feb 2020
[Postponed] CPD Event – Technical Visit to the First ArchSD MiC Project Site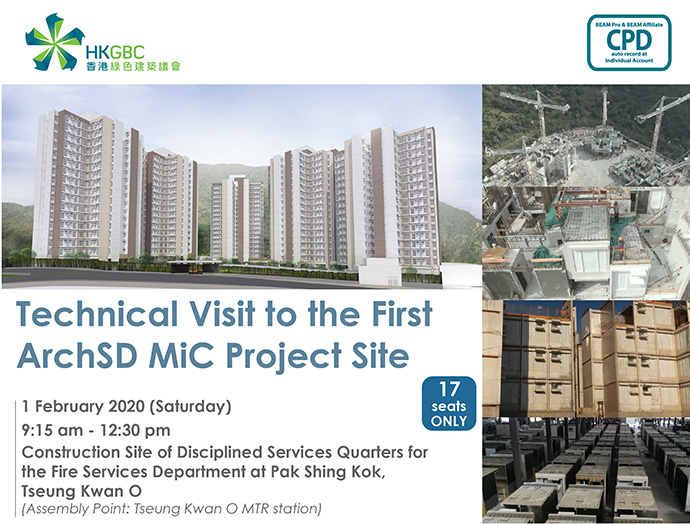 (Click here to see the event flyer)
In line with the Government's enhancement of measures to prevent the outbreak of the new corona virus, the CPD event is postponed until further notice.

This event is organised by the Hong Kong Green Building Council.
This technical visit is targeted at green building practitioners in developer/consultant firms who have an interest in Modular Integrated Construction (MiC). The project is the first Architectural Services Department (ArchSD) project adopting "MiC" (Modular Integrated Construction) technique on a large scale. It is a disciplined services quarters located at Pak Shing Kok, Tseung Kwan O and is built for the staff of Fire Services Department. The construction contract commenced in Q3 2018. Completion is expected in late 2020. This project consists of 5 towers that are 16-17 storeys high, each floor is made up of 8 units providing 648 units in total. The units are 50 sq.m 3-bedroom type. There are about 3,800 MiC modules. More than 1/10 of the modules have been installed on-site.
Important Notes
The building is still under construction. Participants are required to follow the safety instructions given by the organisers and to take necessary safety precautions during the visit. All participants are required to wear safety helmets provided by the building contractor. Participants shall note that neither HKGBC nor the parties concerned would accept liability in connection with this event.
Event Detail

Event Name

:
[Postponed] CPD Event – Technical Visit to the First ArchSD MiC Project Site

Presented By

:

ArchSD and its contractor

Date

:
01 Feb 2020

Time

:
9:15 am - 12:30 pm

Venue

:

Construction Site of Disciplined Services Quarters for the FSD at Pak Shing Kok

(Assembly Point: Tseung Kwan O MTR station; a coach will be arranged to the project site)


Capacity

:
17

Credits

:

Fee

:
HK$100.00 (

HKGBC Members

)
HK$150.00 (

HKGBC Non-Members

)

Contact Person

:
Mr Elliott TAM

Contact Phone

:
39948890

Contact Email

:
eventregis@hkgbc.org.hk

Programme

:

9:15am - 9:30am

Registration and Assembly at Tseung Kwan O MTR station


9:30am - 10:00am

Transportation from Tseung Kwan O MTR to the Project Site




10:00am - 12:00nn

Technical Visit


12:00nn - 12:30pm

Transportation from the Project Site to Tseung Kwan O MTR




Language

:
Cantonese
Remarks for Registration
Successful registrants will be notified by email at around 2 weeks before the event, as confirmation of enrolment. Payment for the event shall be arranged after the confirmation of enrolment. Credit card payment is NOT available for this event.