31 Oct 2019
CPD Event - Smart Building Solutions – Cloud-based Software Platform and ELV Technologies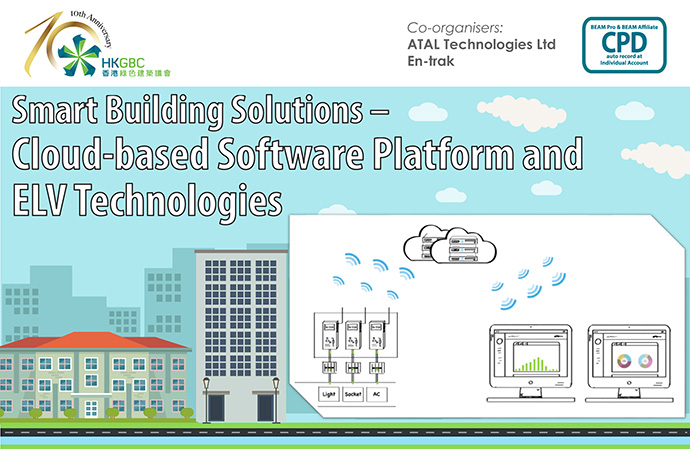 (Click here to see the event flyer)

Thanks for your support! The event is full house now.
This event is co-organised by the Hong Kong Green Building Council, En-trak and ATAL Technologies Ltd.
(1) Innovative Cloud-based Software Platform and Prop Tech to Optimise Energy Use in Commercial Buildings
There is an increasing need by cities around the world to manage growing energy costs. Modern cloud-based operating system enables building operators to have full visibility, analytics and actionable insights into these data. In this talk, a prop tech company would share with the audience two reference cases:
How an innovative smart lighting technology helps shopping malls reduce energy consumption;
Property technologies that enable occupants of commercial buildings to control central air-conditioning and office lighting using a Mobile App.
The prop tech company was a winner of the 2017 Jumpstarter Competition organized by Alibaba HK Entrepreneurs Fund. In 2018, the company further secured investment from the same fund and CLP Innovation Ventures Ltd.
Speaker: Mr Alfred YIP, Senior Manager, En-trak

(2) Application of ELV Technologies in the Residential Sector
The increased demand for advanced security technologies has extended beyond the commercial sector to residential. This presentation will cover the latest extra-low voltage (ELV) technologies introduced to the residential market for enhanced access control and security management. Apart from security systems, home automation is gaining importance. Simplifying household life and daily routines can be done with the use of smart home systems. Innovative technologies enable remote control and configuration of all functions in a smart home, improving quality of life at the fingertip.
Speaker: Mr Billy CHEUNG, Manager of Automation and ELV, ATAL Technologies Ltd
Event Detail

Event Name

:
CPD Event - Smart Building Solutions – Cloud-based Software Platform and ELV Technologies

Presented By

:

Mr Alfred YIP and Mr Billy CHEUNG

Date

:
31 Oct 2019

Time

:
5:30pm - 6:30pm (Registration starts at 5:15pm)

Venue

:

Room 109-110, 1/F, Jockey Club Environmental Building, 77 Tat Chee Avenue, Kowloon Tong

(Kowloon Tong MTR Station Exit C1/H)


Capacity

:
40

Credits

:

Contact Person

:
Mr Elliott TAM

Contact Phone

:
39948890

Contact Email

:
eventregis@hkgbc.org.hk

Language

:
Cantonese (supplemented with English presentation materials)