16 Jul 2019
Seminar on innovative technologies to improve IAQ while saving fan energy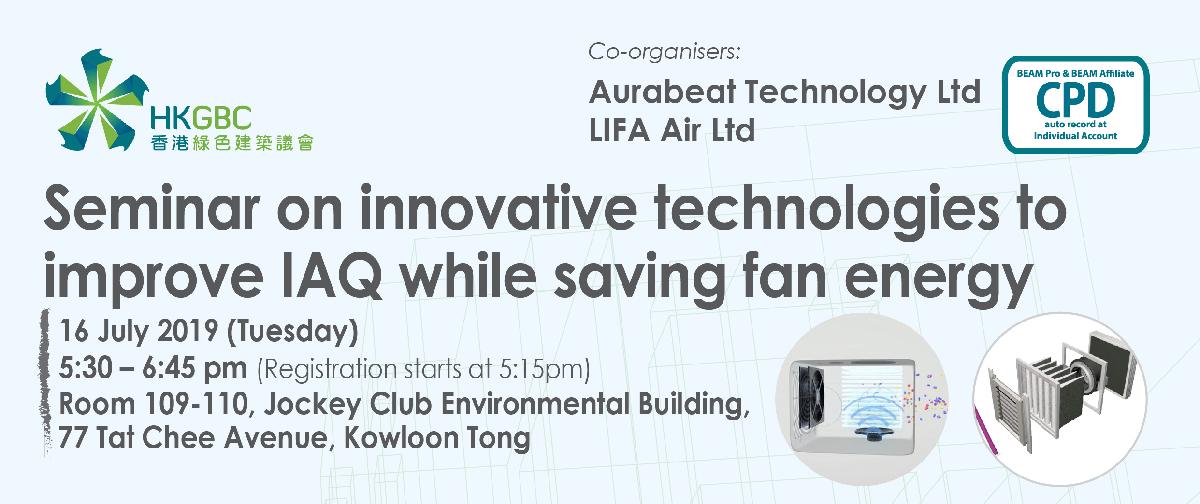 (Click here to see the event flyer)
Thanks for your support! The event is full house now.
This event is co-organised by the Hong Kong Green Building Council, Aurabeat Technology Ltd, and LIFA Air Ltd.

Part I - Acoustic-aided High Efficiency Air Filtration (AHEAF)
Dr Roger Sze To, Founder, Aurabeat Technology Ltd
More than 80% of the life cycle cost of an air filter is energy cost, which refers to the extra energy consumed by the driving fan to overcome pressure drop across the filter. Acoustic-aided High Efficiency Air Filtration (AHEAF) is a locally-developed novel technology that utilizes acoustic wave to induce vibrational motion on particles in air, which greatly improves filtration efficiency without increasing the pressure drop across the filter. This allows IAQ improvement, energy saving and consumable saving at the same time. The technology has potential for retrofitting in existing filters. It has got two US Patents and has been reported recently in local news media (Click here).
Part II – 3G HEPA Filtration Technology
Mr Apollo Kwok, Technical Director, LIFA Air Ltd
Finland is a forerunner in developing IAQ solutions. A patented technology called "3G Filter" was researched by a manufacturer together with the Finnish national technical research center (VTT) over several years, resulting in the discovery of an advanced filtration solution. The 3G technology, which features air ionization and electret filter, can achieve three "green" functions including the killing of bacteria/virus, reducing harmful gases and filtering particle contaminants. The system can be installed directly in AHUs, SA ducts, fan coils or stand-alone purifiers. These advanced filters can reach HEPA filtration grade with low flow resistance. Recently, an upgraded version of 3G Filter has been launched together with IoT and IAQ sensors. The speaker will introduce the technology and share application experience via case studies.
Event Detail

Event Name

:
Seminar on innovative technologies to improve IAQ while saving fan energy

Presented By

:

Dr Roger Sze To and Mr Apollo Kwok

Date

:
16 Jul 2019

Time

:
5:30pm - 6:45pm (Registration starts at 5:15pm)

Venue

:
Room 109-110, 1/F, Jockey Club Environmental Building, 77 Tat Chee Avenue, Kowloon Tong

Capacity

:
35

Credits

:

Fee

:

Free of Charge

(

HKGBC Members

)


Free of Charge

(

Non-HKGBC members

)

Contact Email

:
eventregis@hkgbc.org.hk

Language

:
Cantonese, supplemented by English terminology