27 Jul 2019
CPD Event - Visit to O · Park 1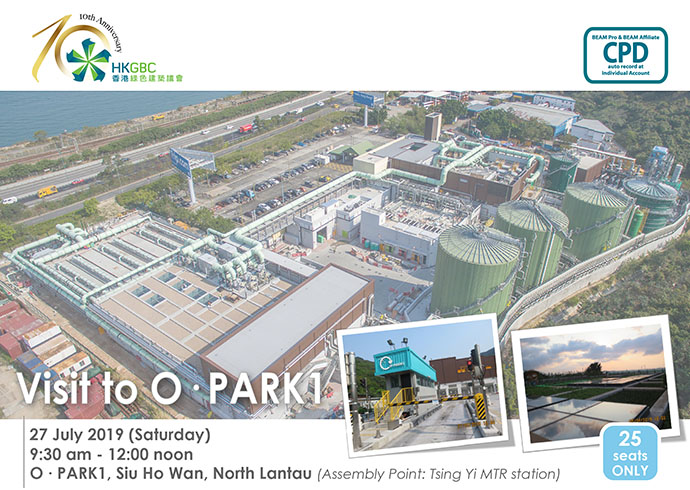 (Click here to see the event flyer)
Thanks for your support! The event is full house now.


Located at Siu Ho Wan in North Lantau, O∙PARK1 is a self-sustainable food waste recycling facility with a treatment capacity of 200 tonnes per day. It adopts advanced anaerobic digestion and composting technologies to convert food waste into biogas for power generation. Apart from generating heat and power for internal use, it is estimated that about 14 million kWh of surplus electricity, an equivalent of the energy consumption of about 3 000 households, can be generated by O∙PARK1. In addition, O∙PARK1 also helps the recycling of resources by generating about 6 500 tons of compost per year as a by-product.
O · PARK1 has achieved Provisional Gold rating under the BEAM Plus New Buildings [V1.2].

Important Notes:
You are encouraged to dress light and casual in this visit.

Participants of this event must be aged 18 to 65 as of year 2019.
Event Detail

Event Name

:
CPD Event - Visit to O · Park 1

Presented By

:

OSCAR Bioenergy

Date

:
27 Jul 2019

Time

:
9:30am - 12:00noon

Venue

:

O · PARK 1, 5 Sham Fung Road, Siu Ho Wan, North Lantau

(Assembly Point: Tsing Yi MTR station Exit A1)

Capacity

:
25

Credits

:

Fee

:
HK$120.00 (

HKGBC Members

)
HK$180.00 (

HKGBC Non-Members

)

Contact Person

:
Mr Elliott Tam

Contact Phone

:
39948890

Contact Email

:
eventregis@hkgbc.org.hk

Language

:
Cantonese