03 Jun 2019
CPD Event - Application of Biofuel in Construction
The event is full house now. Thank you for your support.
This event is organised by the Hong Kong Green Building Council (HKGBC).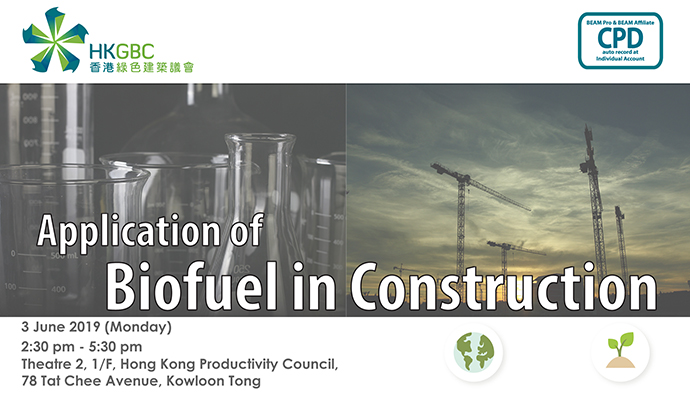 Biofuel is a type of renewable energy derived from a plant source. It also emits less carbon dioxide than fossil fuels. With government support, biodiesel is more widely adopted in Hong Kong. There are plants manufacturing biodiesel from waste cooking oil in Hong Kong. Biodiesel has also been used in buildings and construction equipment.
The CPD seminar will cover the production of biodiesel along the supply chain, as well as the application of biofuel in buildings and construction.
Promoting Use of B5 Diesel in the Government
To promote recycling of waste cooking oils as a raw material for manufacturing biodiesel, the Environmental Protection Department has been actively promoting use of B5 diesel, a blend of 5% biodiesel and 95% EURO V diesel in daily operations of government departments and public works and housing projects since 2010. In addition, we have also put in place an administrative registration scheme with a view to channeling waste cooking oils generated by licensed local food premises to proper recycling outlets. A summary of these efforts would be presented in the coming seminar to encourage wider adoption of B5 diesel by the construction sector.
Speaker: Mr SO Siu Hong, Environmental Protection Officer (Waste Reduction & Recycling) 42, Environmental Protection Department
Understanding of Biodiesel: Myths and Facts
Many potential biodiesel users are not willing to try using biodiesel due to some rumors and myths about the drawbacks in using biodiesel. In fact, they are Right and Wrong. The presentation would detail why they are Right and why they are Wrong.
Speaker: Mr Kenji WONG, Operation Director, Champway Technology Limited
Kenji obtained the Master of Philosophy in Environmental Science. He has over 13 years' experience in waste lipids recycling and biodiesel manufacturing, promotion and application. He has been involved in design, setup and operation of a biodiesel plant in EcoPark since 2009.
Sustainable Energy Cycle in Hong Kong
Hong Kong government was devoted to renewable energy implementation and promotion since 2000. AI Salam Bank (ASB) was invited by InvestHK to invest a project about collecting waste oil and recycling to sustainable biofuel in Hong Kong. The presentation will cover the energy cycle in Hong Kong and the green production of the biodiesel plant.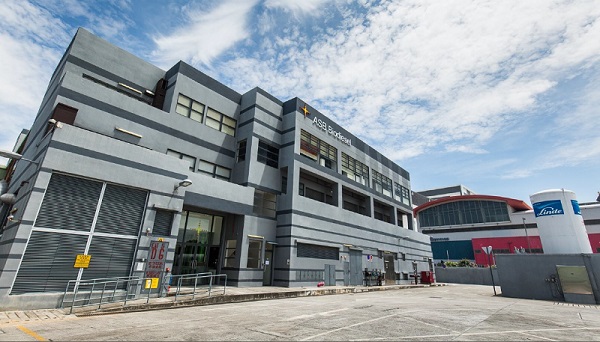 Speaker: Mr Simon CHEUNG, Production Manager, ASB Biodiesel (Hong Kong) Limited
Simon is currently the Production Manager at ASB Biodiesel (HK) Ltd, focusing on leading the production team for smooth operation and plant efficiency improvement. He also leads the team to conduct various engineering projects
Quality Assurance of Biofuel in Supply Chain
Helping to reduce the environmental impact, Shell is investing in a range of lower-carbon energies including natural gas, biofuels and renewable power. As one of the largest blenders and distributors of biofuels in the world, Shell supplies B5 Biodiesel in Hong Kong for commercial customers. When used in construction plants, B5 Biodiesel can be a cost-effective way of reducing CO2 emissions. Ensuring high quality fuels delivered to construction plants requires stringent quality assurance in storage, production process, and blending accuracy control. This presentation gives the essential knowledge of maintaining high product quality throughout the supply chain.
Speaker: Ir Darren WONG, BSc MSc CEng MICE MHKIE, Marketing and Business Development Manager, Shell Hong Kong Limited
Darren is a Chartered Civil Engineer and is responsible for driving Shell Commercial Fuels business development in Hong Kong. He leads the marketing department of the team to support customers in improving operational efficiency by selecting the right fuels to reduce environmental impact. With over 10 years of extensive experience in civil engineering, Darren is specialized in managing design and construction of petrol filling station and has been leading the development programme for Shell stations in Hong Kong and Macau.
Engaging the Stakeholders – Change for Cleaner Fuel
At Gammon, we recognize the importance of adopting sustainable approaches to drive change and reduce our impact on the planet, while at the same time delivering the quality and cost-efficiency our clients need. One of our greatest successes over the past 5 years has been the uptake of B5 bio-diesel in 2013, replacing ultra-low Sulphur diesel with B5 and now use it in 100% of our plant and equipment on Gammon projects. We continue to develop its use in our concrete mixer trucks. Our efforts have also had a positive influence on the industry, with the Government following our lead and mandating in 2016 that all government contracts use B5.
Speaker: Mr Simon WONG, Executive Manager, Procurement, Gammon Construction Limited
Simon joined Gammon in 2003 and is currently the Executive Manager, Procurement of Gammon Construction Ltd., a leading contractor headquartered in Hong Kong experienced in building, foundation, civil engineering, E&M and construction services in China and South East Asia. Simon is responsible for the procurement operation for building materials and supply chain management of Gammon. He has extensive experiences in supply chain engagement and development and involved in Gammon's procurement digitization, supply chain innovations and sustainability initiatives. Simon holds an engineering degree from the University of British Columbia and a Master of Business Administration degree from The Hong Kong Polytechnic University.
Case Sharing on Bio-diesel Trigeneration System in One TaiKoo Place
One TaiKoo Place put waste-to-energy concept into action. Swire Properties pushed the boundaries to introduce Bio-diesel tri-generation system which is the FIRST commercial building application in Hong Kong.
Biodiesel is normally made from feedstock such as used cooking oil, grease or disposed animal fats. The generator burns the bio-diesel which provides electricity for the building and the waste heat from the generators is used to generate cooling and pre-heating of hot water supply. This energy cascade maximises the usable energy from the system. In energy terms, it provides over 2% of the total building electricity consumption. Over 400 MWhrs of renewable energy is generated. It is equal to 278 tons of CO2 emission being off-set by 1400 trees.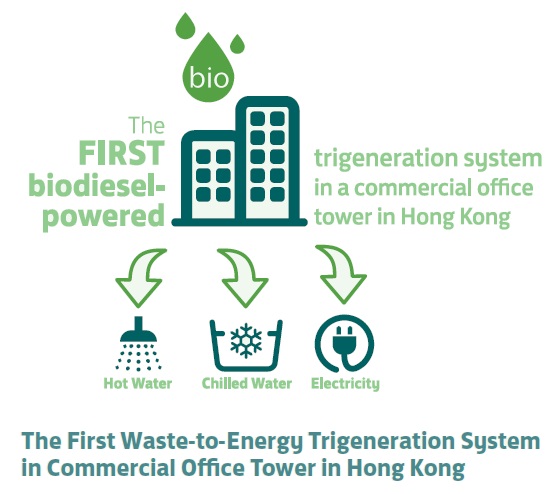 Speaker: Mr Raymond KWOK, Project Manager, Swire Properties Limited
Raymond Kwok was graduated from HKUST with First honour bachelor degree and Master Degree in Mechanical Engineering. After graduation, he was trained as Mechanical Engineer and focused in HVAC and advanced engineering design. He achieved HKIE professional engineer qualification in MMC division since year 2002. Currently, he is a project manager in Swire Properties Limited. Throughout his career, He involved in many privileged projects such as MTR Tseung Kwan O Extension, KCRC West Rail Line, One Island East, City plaza East Hotel, Opus Hong Kong, etc.
Raymond involved TaiKoo Place redevelopment project Phase 2A (well known as One TaiKoo Place) since planning stage. He liaised with Architect, Designer, Structure Engineer, Electrical and Mechanical engineer, Quantity surveyor, sustainability consultant for the whole project development design. With SPL's strategy "SD2030" and integrated design approach, One TaiKoo Place has been positioned as a best in class, green and sustainable, well-beings building from demolition, design, construction to operation. Raymond also manages all aspects of this development project including construction and contract administration.
Event Detail

Event Name

:
CPD Event - Application of Biofuel in Construction

Date

:
03 Jun 2019

Time

:
2:30pm - 5:30pm (Registration starts at 2:00pm)

Venue

:
Theatre 2, 1/F, Hong Kong Productivity Council, 78 Tat Chee Avenue, Kowloon Tong (Exit C1 / H, Kowloon Tong MTR station)

Capacity

:
100

Credits

:

Contact Email

:
enquiry@hkgbc.org.hk

Programme

:

Time
Programme
2:00pm - 2:30pm
Registration
2:30pm - 2:50pm
Promoting Use of B5 Diesel in the Government
by Mr SO Siu Hong, Environmental Protection Officer (Waste Reduction & Recycling) 42, Environmental Protection Department
2:50pm - 3:10pm
Understanding of Biodiesel: Myths and Facts
by Mr Kenji WONG, Operation Director, Champway Technology Limited
3:10pm - 3:30pm
Sustainable Energy Cycle in Hong Kong
by Mr Simon CHEUNG, Production Manager, ASB Biodiesel (Hong Kong) Limited
3:30pm - 3:50pm
Break with Refreshment
3:50pm - 4:10pm
Quality Assurance of Biofuel in Supply Chain
by Ir Darren WONG, Marketing and Business Development Manager, Shell Hong Kong Limited
4:10pm - 4:30pm
Engaging the Stakeholders - Change for Cleaner Fuel
by Mr Simon WONG, Executive Manager, Gammon Construction Limited
4:30pm - 4:50pm
Case Sharing on Bio-diesel Trigeneration System in One TaiKoo Place
by Mr Raymond KWOK, Project Manager, Swire Properties Limited
4:50pm - 5:30pm
Panel Discussion
Moderated by Ir Cary CHAN, JP, Executive Director, Hong Kong Green Building Council

Language

:
Cantonese, supplemented with English presentation materials