Henderson Land Development Co. Ltd.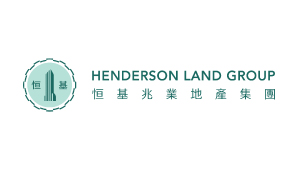 有關恒基兆業地產集團
恒基兆業地產有限公司(股份代號:12)成立於1976年,1981年在香港上市,是於香港和內地均具領導地位的地產發展集團。恒基地產承傳近半世紀的非凡成就,開拓未來新經典,精心策劃與實現更強的地產組合,包括獲獎無數的地標建築項目如國際金融中心及The Henderson。

恒基地產亦持有兩間上市附屬公司,即恒基兆業發展有限公司和美麗華酒店企業有限公司,以及三間上市聯營公司,即香港中華煤氣有限公司(該公司持有一間上市附屬公司港華智慧能源有限公司之股份權益)、香港小輪(集團)有限公司及陽光房地產投資信託基金。集團視可持續發展為長遠的承擔,在推動綠色建築和踐行可持續發展上處於領先地位,致力以創新科技打造未來智能生活。集團亦十分重視企業社會責任,積極支持多元化的社會公益項目。請瀏覽www.hld.com了解更多資訊。

About Henderson Land Group
Founded in 1976 and listed in Hong Kong since 1981, Henderson Land Development Company Limited (Stock code: 12) is a leading property group focusing on Hong Kong and mainland China. Henderson Land is carrying on its legacy into the future, curating a property portfolio that grows from strength to strength and encompasses award-winning landmark projects such as the International Finance Centre complex and The Henderson.

In addition to its core business in property development and property investment, the Group holds strategic investments in two listed subsidiaries (namely, Henderson Investment Limited and Miramar Hotel and Investment Company, Limited) and three listed associates (namely, The Hong Kong and China Gas Company Limited (which in turn has equity stakes in a listed subsidiary, Towngas Smart Energy Company Limited), Hong Kong Ferry (Holdings) Company Limited and Sunlight Real Estate Investment Trust). Henderson Land has a long-term commitment to sustainability and is a pioneer in green building and sustainable practices that harness innovation and technology to create new, smarter living. The Group is also a strong advocate of social responsibility and invests in a broad range of community causes and initiatives. For more information, please visit www.hld.com.