2023-01-18
WSP scores a quadruple win at CIC MiC Achievement Ceremony
Four WSP projects have recently been named Outstanding MiC Projects at the MiC Achievement Ceremony 2022 organised by the Construction Industry Council (CIC) for their achievements in the promotion and adoption of Modular Integrated Construction (MiC) technologies to improve productivity, quality, sustainability and safety of the construction industry. These award-winning projects include:


Chinese Medicine Hospital and Government Chinese Medicines Testing Institute
WSP provided comprehensive building services, environmental and sustainability design consultancy for the first Chinese Medicine Hospital in Hong Kong, while overcoming challenges from large scale implementation of MiC and Multi-trade Integrated Mechanical, Electrical and Plumbing (MiMEP), successfully optimising productivity, enabling larger extent off-site prefabrication, and enhancing overall safety and quality.
Disciplined Services Quarters for the Fire Services Department
WSP provided MEP engineering and BEAM consultancy services for this first public work project adopting MiC in Hong Kong. Each MiC module was pre-installed with sanitary fittings and wirings, which will facilitate sustainable construction in different types of public and private development projects and bring a significant impact on a smarter future of the industry.

Serving as the structural engineer and MiC consultant of the project, WSP designed robust MiC steel modules to secure lateral stability and save construction and transportation costs. With modularisation of over 70% of typical structure, it also reduced the complexity of site installation, shortened the overall construction programme by 40% and reduced construction wastage on site by 60%.

The University of Hong Kong Wong Chuk Hang Student Residence
WSP provided structural engineering services to support the building with a cost effective and buildable MiC structural system that is easy for handle, erection and installation. Prefabricated polished-flooring, anti-mould emulsion paint walls and ceiling for each room, and all fixed furniture modules were completed and installed in the factory, resulting in a much faster project completion time.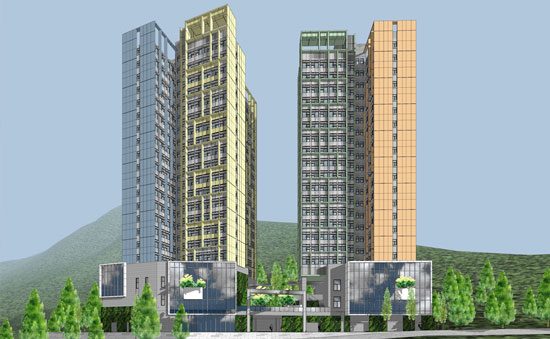 Find out more about WSP's winning projects:
https://www.wsp.com/en-cn/news/2023/wsp-scores-a-quadruple-win-at-cic-mic-achievement-ceremony