2023-09-18
Hang Lung Teams Up with Green Startup and NGO to Shape Circularity in Hong Kong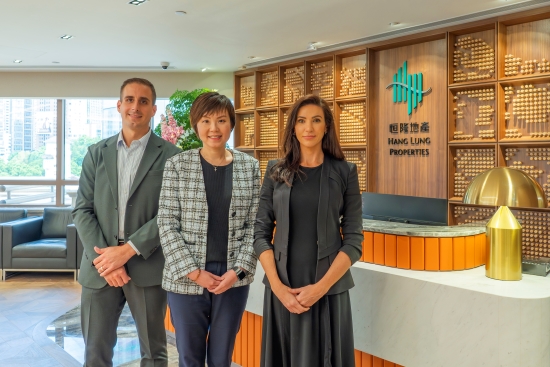 Hang Lung Properties has partnered with Sustainable Office Solutions (SOS), a green startup based in Hong Kong, and Crossroads Foundation, a local non-profit organization, to implement a comprehensive resource utilisation scheme for its Hong Kong Office Rejuvenation Project. By reusing, redistributing, or recycling over 3,200 office resources, the first phase of the collaboration has successfully diverted nearly 140,000 kg of municipal waste from landfills and helped avoid more than 510 tons of carbon emissions, which is equivalent to the emissions generated by over 3,000 flights between Hong Kong and Singapore. The collaboration has also achieved impressive social impacts.

Hang Lung has embarked on a rejuvenation project for its Hong Kong offices since May this year, aiming to create workspaces that foster wellness, engagement, and a collaborative culture. As sustainability is one of its core values, the Company conducted thorough reviews to identify ways to minimise the Project's environmental impact and promote the wellbeing of its employees and the wider community.

Measures implemented include:

1) Staff Take Home Program: Hang Lung encouraged its Hong Kong employees to take home well-maintained office furniture and electronic appliances, such as task chairs, pedestals, computer monitors, and ovens, for free. The program has received positive feedback, with nearly 90 staff members participating in the first round.

2) Donation to NGOs: In the initial phase of collaboration, 182 office resources were donated to 14 NGOs, including Crossroads Foundation, Oxfam Hong Kong, and Hong Kong PHAB Association, covering various sectors in Hong Kong. These resources support the planning and implementation of community projects.

3) Reuse: Hang Lung currently utilises numerous recycled office resources in its swing office, while others are stored for future reuse after the completion of the Project.
4) Upcycle: Resources that cannot be reused, such as wooden desktops, will be processed and transformed into items like office panels for secondary use.
5) Recycle: Remaining non-reusable resources will be sent to local recyclers for treatment, maximising their circular economy benefits.
This initiative aligns with Hang Lung's 2030 Sustainability Goals and Targets as well as 25 x 25 Sustainability Targets for resource management. The Company hopes to make it an industry best practice, inspiring others to join forces in accelerating the transition to a circular economy in Hong Kong.
For more information, please visit:
https://www.hanglung.com/en-us/media/press-releases/2023/20230816