2023-09-13
Trane's Innovative Solution Enhances Air Quality and Passenger Experience at MTR Stations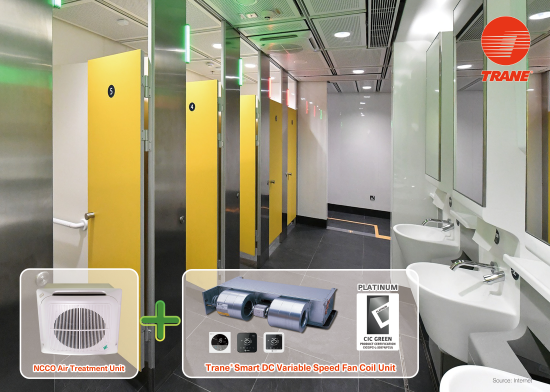 The Challenge
MTR Corporation Limited (MTRC), the operator of Hong Kong's urban metro system, has a purpose to
"Keep Cities Moving"
. MTRC provides passengers with more comfortable and convenient railway services by continuously enhancing its station facilities. Since older MTR station washrooms lacked air-conditioning and ventilation systems, passengers complained about odors and discomfort in their search for an escape from the summer heat. MTRC recognised the need to retrofit these station washrooms to create a hygienic and comfortable air-conditioned indoor environment for the public.
Trane's Solution
MTRC approached
Trane Hong Kong
and engaged it to carry out a series of retrofit works in nine of its station washrooms, to adopt an advanced temperature-controlled air-conditioning solution in its station washrooms while adhering to its green energy-saving principles. To meet MTRC's demands, Trane provided the latest Smart DC Fan Coil Unit powered by a direct-current motor, which features low noise and comfort, while achieving energy savings of up to 70% when compared to those using traditional alternating-current motors. Additionally, Trane used a Nano Confined Catalytic Oxidation (NCCO) unit, to remove harmful pollutants and odors from the air and to ultimately provide the optimum results in air quality.
Trane's fan coil air-conditioning unit and NCCO air treatment unit first underwent a successful pilot run at Hung Hom station's washroom. It was found that the levels of airborne particles and germs were dramatically reduced. After that, MTRC adopted the same design and equipment for washrooms at eight more stations, namely East Tsim Sha Tsui, Austin, Prince Edward, Yau Tong, Tseung Kwan O, Fo Tan, Tai Wai, and Lo Wu, to improve the air quality there.
Key Outcomes
Trane's advanced air-conditioning and air treatment technology have enabled these washrooms to offer passengers a hygienic and comfortable indoor environment, complete with smart temperature controls for superior energy efficiency. The retrofits have also resulted in a notable reduction in airborne particles and pathogens in the air, significantly reducing the complaints received by MTCR regarding hygiene and air quality issues.
The project's success has laid a solid foundation for future collaboration between MTRC and Trane in enhancing air-conditioning and air quality across various other MTR facilities.
Read more:
https://www.tranehk.com/en/News_Newsletter.aspx