2023-01-04
As a pioneer of green buildings, Sun Hung Kai Properties proactively develops premium environmentally friendly commercial projects
With a strong commitment to quality, Sun Hung Kai Properties (SHKP) has incorporated green elements in its major commercial projects over the years and obtained global green building certifications, making the Group a pioneer of green buildings in Hong Kong. In recent years, the Group has set long-term environmental targets as part of its sustainability strategies and actively engaged in research on innovative green building technologies to foster Hong Kong's vision of becoming a carbon-neutral city.
SHKP strives to incorporate sustainable elements into the entire life cycle of its property development, from design and materials procurement to construction and property management. To meet international green standards, the Group has aimed to obtain Leadership in Energy and Environmental Design (LEED) Gold or Platinum certifications for its newly completed core commercial projects. SHKP also recognized the importance of energy saving and carbon reduction in existing buildings. The Group has continued to put in substantial resources and capital to enhance the environmental performance of its properties and operations through optimizing resource efficiency and leveraging innovative solutions. In 2022, four key commercial buildings of SHKP, namely International Commerce Centre (ICC), Sun Hung Kai Centre, One IFC and Two IFC, successfully achieved LEED Platinum certification under the v4.1 Operations and Maintenance: Existing Buildings rating system. ICC delivered the most outstanding performance with the highest score among Hong Kong buildings under this rating system. The 40-year-old Sun Hung Kai Centre was the oldest commercial building awarded this honour whereas Two IFC was the first commercial building in Hong Kong to receive the acclaim.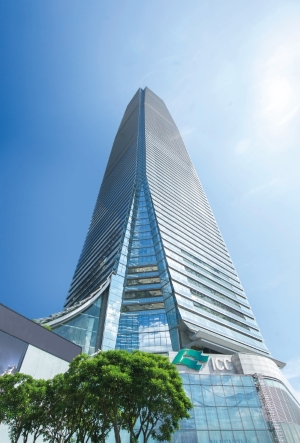 International Commerce Centre (ICC)
Innovative technology is of utmost importance to the Group's sustainability. In 2005, the Group and The Hong Kong Polytechnic University (PolyU) collaborated on research and development of innovative green building technology, taking advantage of a partnership between the industry, academic and research sectors. Recently the Group has joined hands with PolyU again to work on three research projects: Green Applications, Green Building Materials and Green Construction Processes. The research includes the joint development of a smart, efficient, flexible energy management system for the Group's integrated complex atop the High Speed Rail West Kowloon Terminus as a pilot project to transform, realize and commercialize building technology research outcomes. For this purpose, the team will develop full life cycle smart energy-efficient technology and system solutions, allowing the use of artificial intelligence, Internet of Things and digital twins to achieve real-time optimal energy control and maximize energy saving. The team will also optimize Carbon Activation to produce more environmentally friendly concrete. In addition, the Group will work with PolyU to establish the first-ever blockchain-based platform for the construction industry to record the Building Information Model (BIM) of every project. This will facilitate the government's full implementation of digitalized vetting and approval for the construction industry, contributing to the planning for Hong Kong's smart city development in the long run. For further details, please read https://www.shkp.com/Content/Uploads/SHKPQuarterly/2022q4/tc/ebook/6/.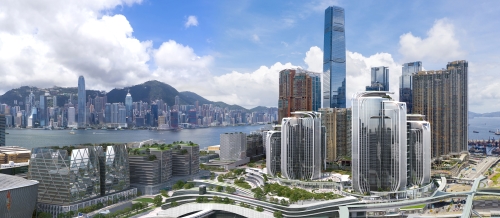 Topside development at the High Speed Rail West Kowloon Terminus (rendering)