2022-11-16
WSP launches 2021 Global ESG Report: "Positive and Bold Change Agents"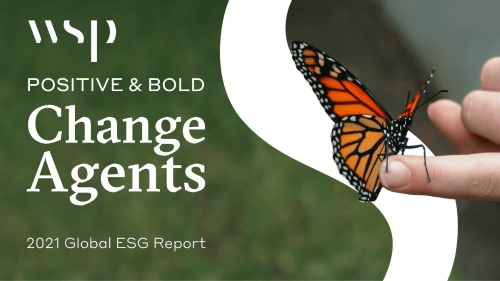 WSP has recently published its 2021 Global ESG Report, setting out its unequivocal commitment to challenge the status quo and create lasting positive impacts for the communities and the planet. Taking the theme of "Positive and Bold Change Agents", the Report details WSP's ESG strategy, performance, and future-focused sustainable initiatives. Highlights of key accomplishments include:

Environmental:
Clean Revenues: 51.5% of WSP's total global revenues came from services that have a positive environmental impact and support the UN Sustainable Development Goals.
GHG Reductions: WSP's greenhouse gas (GHG) emissions reduction targets were approved by the Science-Based Targets initiative in April 2021. Scope 1, 2 (market-based) and 3 GHG emissions were reduced by 15% compared to a 2018 baseline.
Climate Transition Plan: Climate Transition Plan was launched to provide an overview of WSP's emissions reduction targets, net-zero commitment and strategies to achieve transition to a low-carbon future.
Social:
Donated US$2.4M to charitable causes globally in 2021
37.5% of WSP's current Board members are women, surpassing their target of 30% set in 2021
Governance:
Published first standalone Task Force on Climate-related Financial Disclosures (TCFD) Report
Began formal assessment of first ESG risks in Enterprise Risk Management system

The Report also unveils WSP's clear targets of 2022-2024 ESG Commitments, underpinned by the Group's Future Ready objective to deliver future-proof outcomes for all its stakeholders. It includes taking proactive approach to achieve operational excellence through managing and improving ESG performance; strengthen expertise by incorporating sustainability and resilience into all phases of the project lifecycle; help clients transit into low-carbon economy, reduce costs and manage risk; and foster safe and ethical workplace that support diversity and inclusion for employees.

With locally dedicated multidisciplinary experience in Asia, WSP offers core ESG expertise in environmental consulting, resources management, engineering and design, and strategic advice, particularly in areas of environmental monitoring including acoustic management, integrated water and environmental, industrial hygiene services; assessment including carbon assessment, due diligence, Environmental Impact Assessment; and remediation – to bring quality and result-oriented solutions for complex challenges, elevate health and wellbeing, and shape an enduring built environment.

Read WSP's Global ESG Report about their commitment or email WSP's leader for their ESG service offerings.