2022-11-16
Hong Kong International Airport achieved remarkable energy saving with Carrier High Efficiency AquaEdge® 19DV Centrifugal chiller adopting Environmentally Balanced HFO R-1233zd(E) Refrigerant
Carrier's award-winning high efficiency AquaEdge® 19DV centrifugal chiller is the new driving engine at the heart of the physical plant for the Ground Transportation Center (GTC) in Hong Kong International Airport (HKIA).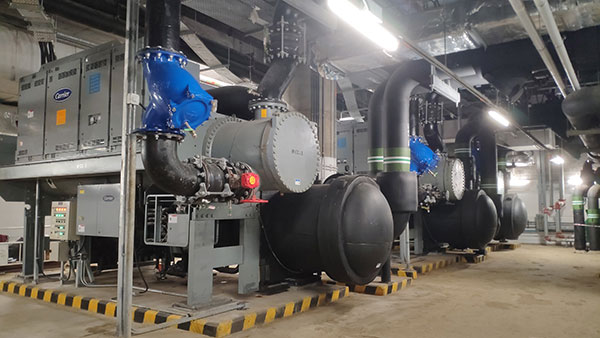 Under the HKIA 2050 Net Zero Carbon Pledge, Airport Authority Hong Kong (AAHK) and its key aviation-related business partners have committed to achieving Net Zero Carbon by 2050 at HKIA, with a mid-term target to reduce 55% absolute carbon emissions by 2035 against the 2018 baseline. The chiller replacement project at GTC is one of the various energy-saving projects that contributes to HKIA's new carbon pledge.

In replacing the three 600-ton ageing chillers by 800-ton Carrier AquaEdge® 19DV centrifugal chillers at GTC, Carrier helped HKIA to achieve an annual energy saving of 2.3 million kWh. The new chillers adopt PUREtec™ R-1233zd(E), a hydrofluoroolefin (HFO) non-ozone depletion refrigerant that shifted away from chlorine and toward materials with lower global warming potential (GWP). PUREtec™ R-1233zd(E) has an ultra-low GWP close to 1 with non-flammable and non-toxic properties which offers a safe and environmentally steward solution meeting the challenge of efficiency and climate change. With a rated summer full load coefficient of performance (COP) of 6.3 to winter part-load COP that ramps up to an astounding 13.0, the AquaEdge® 19DV centrifugal chiller has proven itself a valuable asset in fulfilling decarbonisation goal of HKIA and turning into one of the world's greenest airports.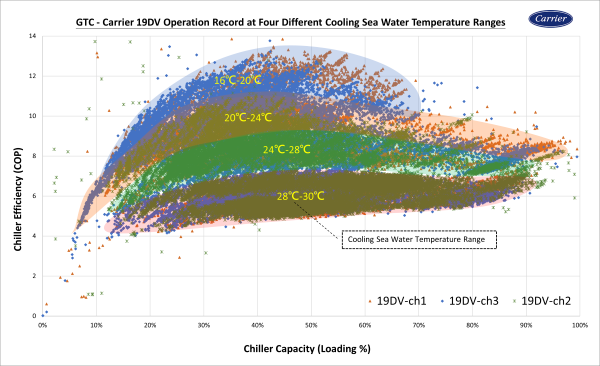 The fundamental physics of the centrifugal chiller have not changed, but the innovative technologies on each major component in AquaEdge® 19DV makes it an outstanding choice for medium size chillers in the range of 300 to 1,100 R.Ton.

Equipped with the EquiDrive™ back-to-back two-stage compressor technology, provides a broad operation envelope and efficiency at actual running conditions. Bearing technology has progressed from traditional oiled journal bearings to ceramic bearings that uses circulating refrigerant as the bearing lubricant. Hybrid falling-film evaporator technology designed for low pressure refrigerant brings greater heat transfer efficiency by mitigating submergence effect especially at part load conditions. New modern variable frequency drives (VFD) unit-mount starter substantially improves efficiency as the chiller unloads at low cooling demand.

One of the most significant innovations on AquaEdge® 19DV is the adoption of R-1233zd(E) PUREtec™ refrigerant, marking the transition from hydrofluorocarbon (HFC) to lower GWP hydrofluoroolefin (HFO).

The AquaEdge® 19DV features Carrier's SmartV™ control panel, which allows intelligent control of all aspects of the cooling system. Carrier SmartVu™ is a full colour graphic display with software that can determine the optimal operating conditions and AI that diagnoses potential machine service issues. Linking information to a central building management system for easy access at building control room is a pre-requisite today for many applications. The AquaEdge® 19DV has raised this to another level with built-in wireless cellular communication technologies with Carrier® SMART. Carrier® SMART streams operating data to the cloud in real time directly from SmartVu™.

The data is captured in Carrier's IoT platform for ongoing insight into the chiller's health. Carrier® Smart Service supports online data management and analysis with daily performance reports, which helps the users continuously optimise the chiller and system operation.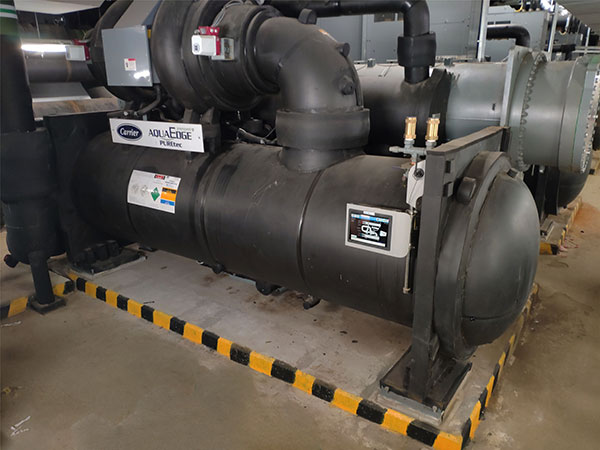 Carrier's AquaEdge® 19DV features the SmartVu™ control panel, a full colour graphic display with AI software that can determine
the optimal operating conditions and diagnoses potential machine service issues.